Action-Reflection Cycle
A connection between action and reflection drives the Hyde program. As we have learned, character is strengthened through action and learning. Thus, students are given a comprehensive set of challenges - academics, athletics, performing arts, public speaking, jobs, leadership opportunities, and many more. Vacations and home life are also important in the learning process.


The reflection phase of the learning comes when we step back and assess what, how, and why we did what we did in each area. We reflect on our current view of self and connect to a new view of self if necessary. The point is to tie each action to a reflection that can lead to new perceptions of our attitudes, actions, and self. The goal is to become more self-aware and increase our learning potential.

This week, instead of our usual all-school meeting, we divided into classes and tackled essential topics to reflect upon. The following happened with each group:

Seniors and Faculty

The seminar process at Hyde is one in which students, teachers, and parents come together to talk at a deeper level using a set of guidelines. The seminar is also a chance for the seniors to interact with the faculty in more of an adult-to-adult format. The seniors and faculty meet and then split into smaller groups to seminar about the following questions:
What am I struggling with/working on?
Where do I need the help of others?
What core strength can I bet on in myself?
Juniors
The class of 2024 met with College Counselor Lisa Geller to talk about the college process and the importance of the junior year. Discussions centered around creating a college list, planning on college visits, essay themes, and beginning to request recommendations.
Sophomores and Freshman
I met with this group and we discussed the theme of "Leadership." Each student identified a couple of leadership opportunities that they could take on and then evaluate in the next three weeks before spring break. Some examples of assuming a leadership role included:
Art Class - being an example
JV Basketball - supporting and challenging peers to be their best
Discovery Group - speaking up and setting an example
Athletic Team - Really caring about the team and showing that to everyone
Science Class - asking questions and modeling curiosity
Dormitory - keeping the laundry room and bathroom up to standards
First-Period Class - Setting the right tone for the start of the academic day.
We summarized the meeting with a few comments about what we got out of this reflection on leadership. As one student commented, "I realized today that we don't have to wait until we are juniors and seniors to be leaders in the school." Indeed, an important reflection that can lead to positive action and increased learning!

Laura D. Gauld '76
President & Head of School
We have a long-standing tradition at Hyde of rewarding students with a well-deserved day off in February, called Head's Holiday. Instead of attending classes, students can opt to get off campus with a variety of trips or activities hosted by faculty volunteers. This year, trips included a train ride into Boston for the day, freshening up at the nail salon, skiing at Sugarloaf Mountain, cooking, knitting, and an afternoon at the arcade, to name a few. The students enjoyed a day of fun, relaxation, and time to recharge. Fun was had by all!
Boston Trip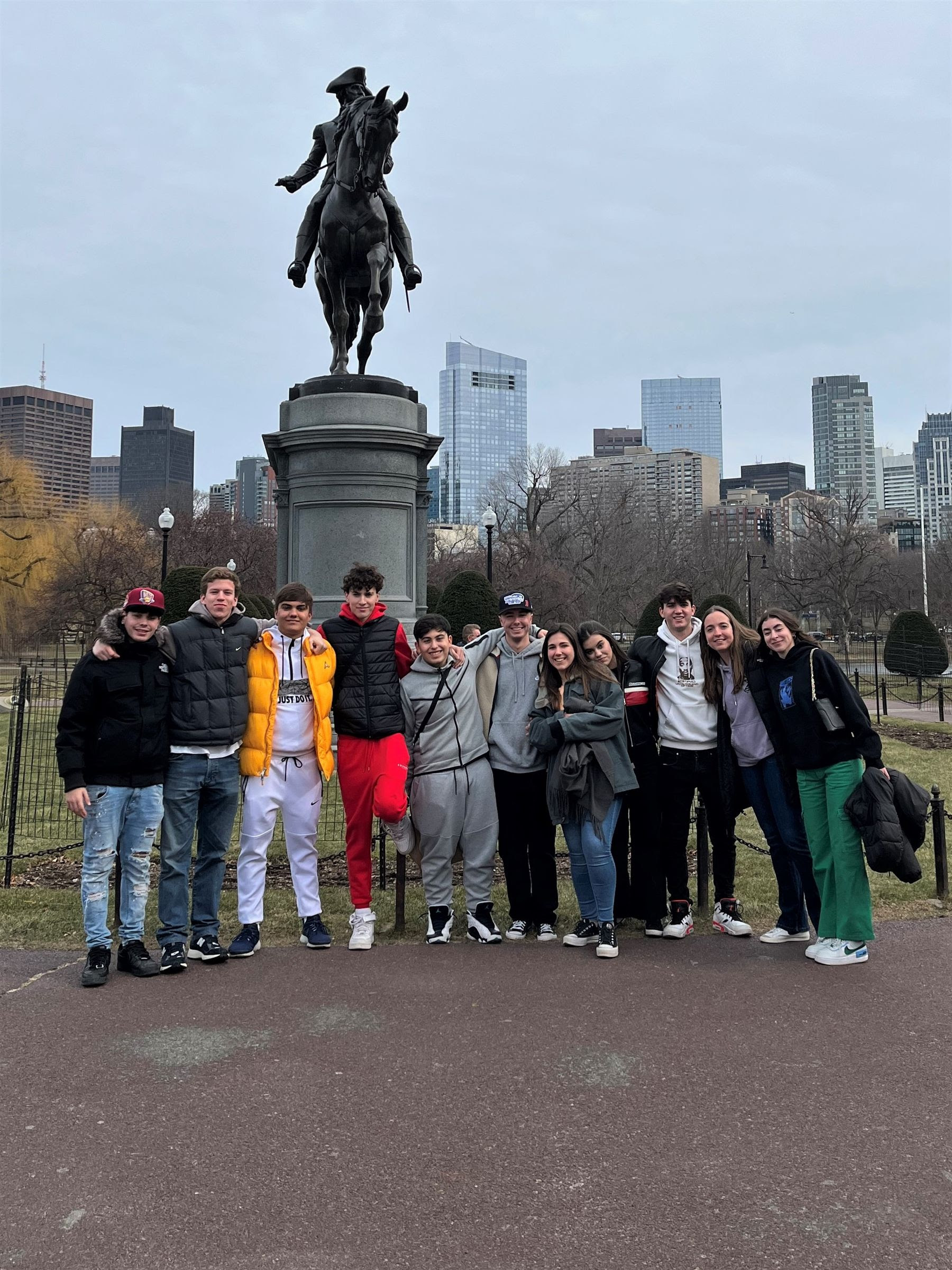 Boston Trip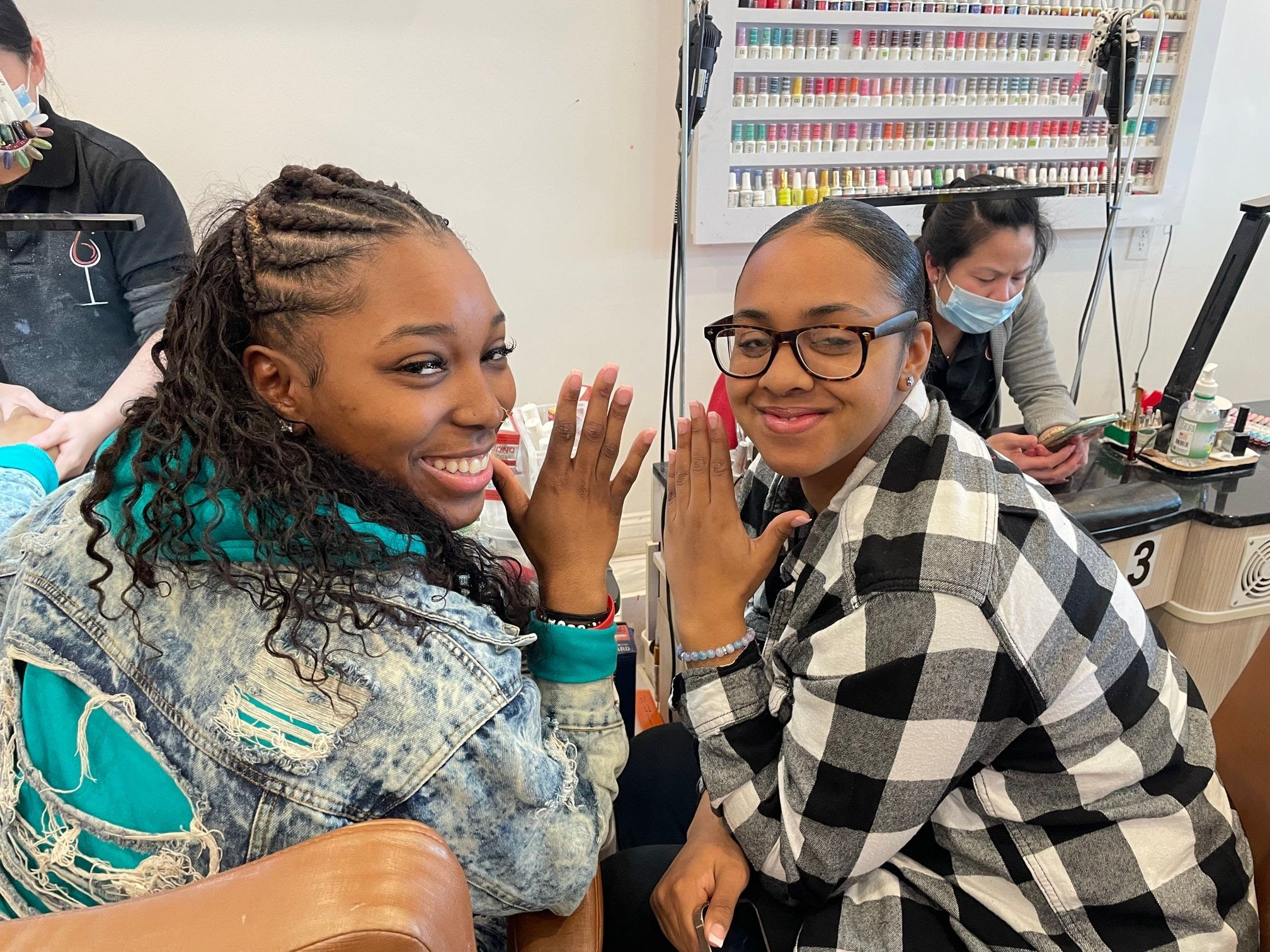 Nail Salon
Nail Salon
Ski Trip to Sugarloaf
Ski Trip to Sugarloaf
Cooking and movies at Mrs. Cooke's
Cooking and movies at Mrs. Cooke's
P.A.C.E. (People Are Created Equal) Project
Malcolm Gauld '72 utilized this year's P.A.C.E. (People Are Created Equal) program as a chance to get back into the classroom. A longtime Hyde history teacher, he especially enjoyed the opportunity to reconnect with the African-American history focus he had applied during his undergraduate days as a history major.
Topics explored during this school-wide first Power Point session included:
- What is history? Some definitions.
- An actual 1964 literacy test from Louisiana
- Prejudice vs. Racism – an analysis
- De Jure vs. De Facto Segregation… Jim Crow laws
- Loving v. Virginia (1967) U. S. Supreme Court case
- Bill Russell – 2 stories from Second Wind – Memoirs of an Opinionated Man
- Hank Aaron – The strife he endured while chasing Babe Ruth's home run record
Next week's session will focus on the arts as well as various strategies designed and utilized to counter the discrimination and disenfranchisement surrounding the Jim Crow laws.
Northern New England Wrestling Tournament returns with Hyde athletes topping the podium
The Northern New England Wrestling Tournament returned to The Joe on Saturday, February 4, 2023. It was truly a community effort from concessions, to set-up/clean up, the table workers, wrestlers and coaches. Everyone came together to pull off another great event! The school hosted over 10 teams including Andover, Exeter, Brooks, Lawrence, Middlesex, Marianapolis, Milton, BB&N, BCD, Landmark, Thayer, and GFA.
Erez Shetreat-Klein '23 placed 6th overall, Nate Phillips '23 and Elias Remekie '26 placed 5th. Top placements went to Zane Boulet '23 with 2nd place and Spencer LeClair '23 placed first!
Congrats to all on a great day for the pack!! #PinToWin
Nate Phillips '23
Elias Remekie '26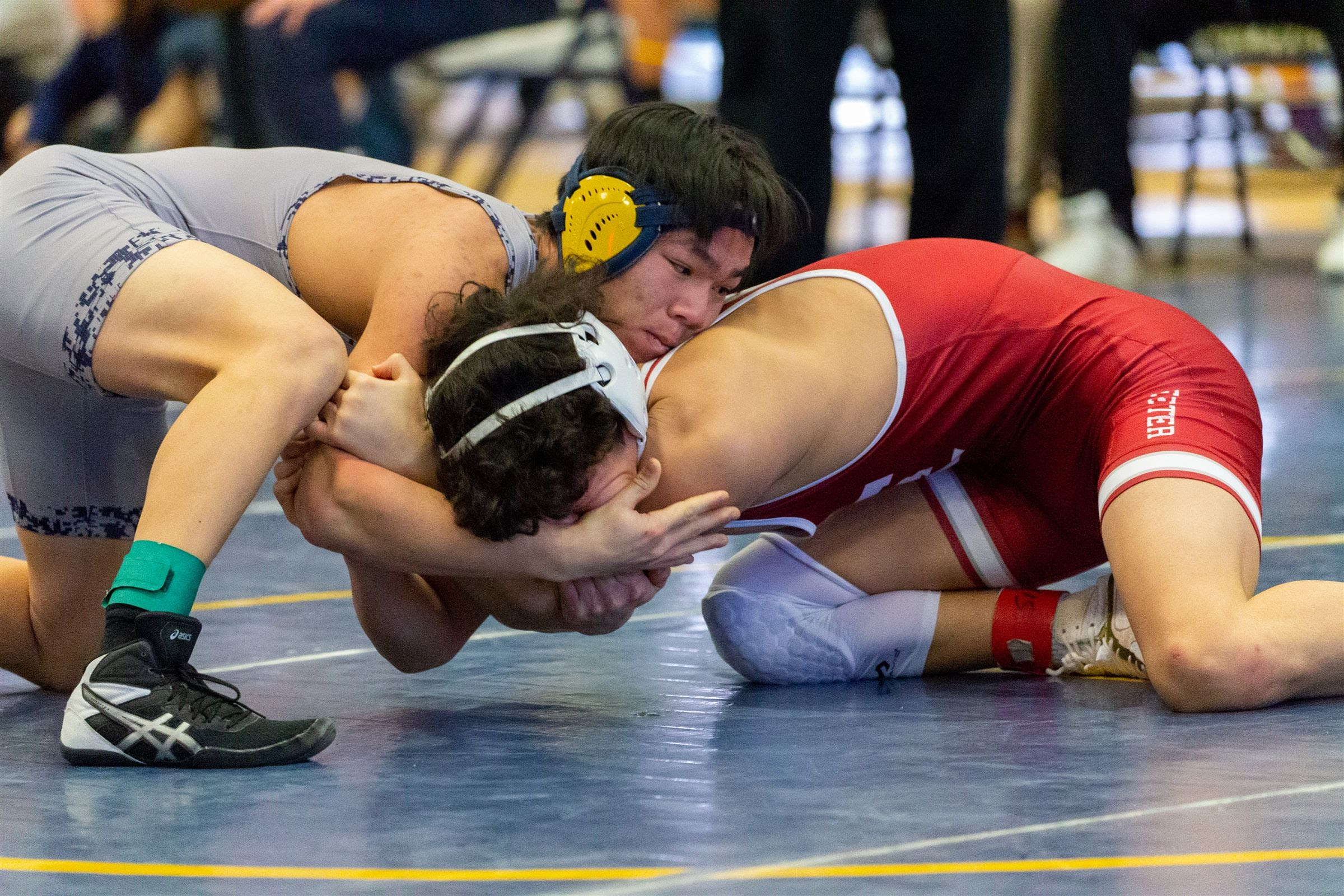 Zane Boulet '23
Spencer LeClair '23
Wolfpack Recap
Friday, February 3
BVBB vs Wheeler (#2 in NE) 57 - 51
Swim Meet vs Lincoln Academy at Wiscasset
*Senior night at the pool!
Saturday, February 4
Boys Ice Hockey Mt. Ararat/Hyde vs Lewiston 3 - 6
Northern New England Wrestling Tournament
Erez Shetreat-Klein '23 placed 6th overall
Nate Phillips '23 and Elias Remekie '26 placed 5th
Zane Boulet '23 placed 2nd
Spencer LeClair '23 placed 1st
Tuesday, February 7
BVBB at Kents Hill 60 - 50
BJVBB at Edward Little 35 - 51
Wednesday, February 8
GVBB vs Brewster 38 - 60
BVBB vs Gould 65 - 34
Thursday, February 9
BJVBB vs Belfast 41 - 19
Aidan Gahr '25 scoring his first career bucket with a long range three-pointer!
Upcoming Games and Meets
Friday, February 10
BJVBB vs Richmond HS 3:00pm away
Swim Meet vs KVAC at Bath YMCA 5:00pm
Saturday, February 11
Boys Ice Hockey Mt. Ararat/Hyde vs Kennebunk/Wells at the University of New England 1:00pm
BVBB vs LCA 2:30pm home
Monday, February 13
Boys Ice Hockey Mt. Ararat/Hyde vs Edward Little HS at the Androscoggin Bank Colisee 6:30pm
Wednesday, February 15
BJVBB vs Kents Hill 3:15pm away
BVBB vs New Hampton Varsity 4:30pm away
GVBB vs Berwick Academy 4:45pm away
*Schedule subject to change, please check out Hyde Athletics and Hydeschool_Athletics Instagram handle for updates.
HYDE ALUMNI HALL OF HONOR INFO
To nominate candidates for Alumni Hall of Honor link below.