From Childhood Spirit to Future Vision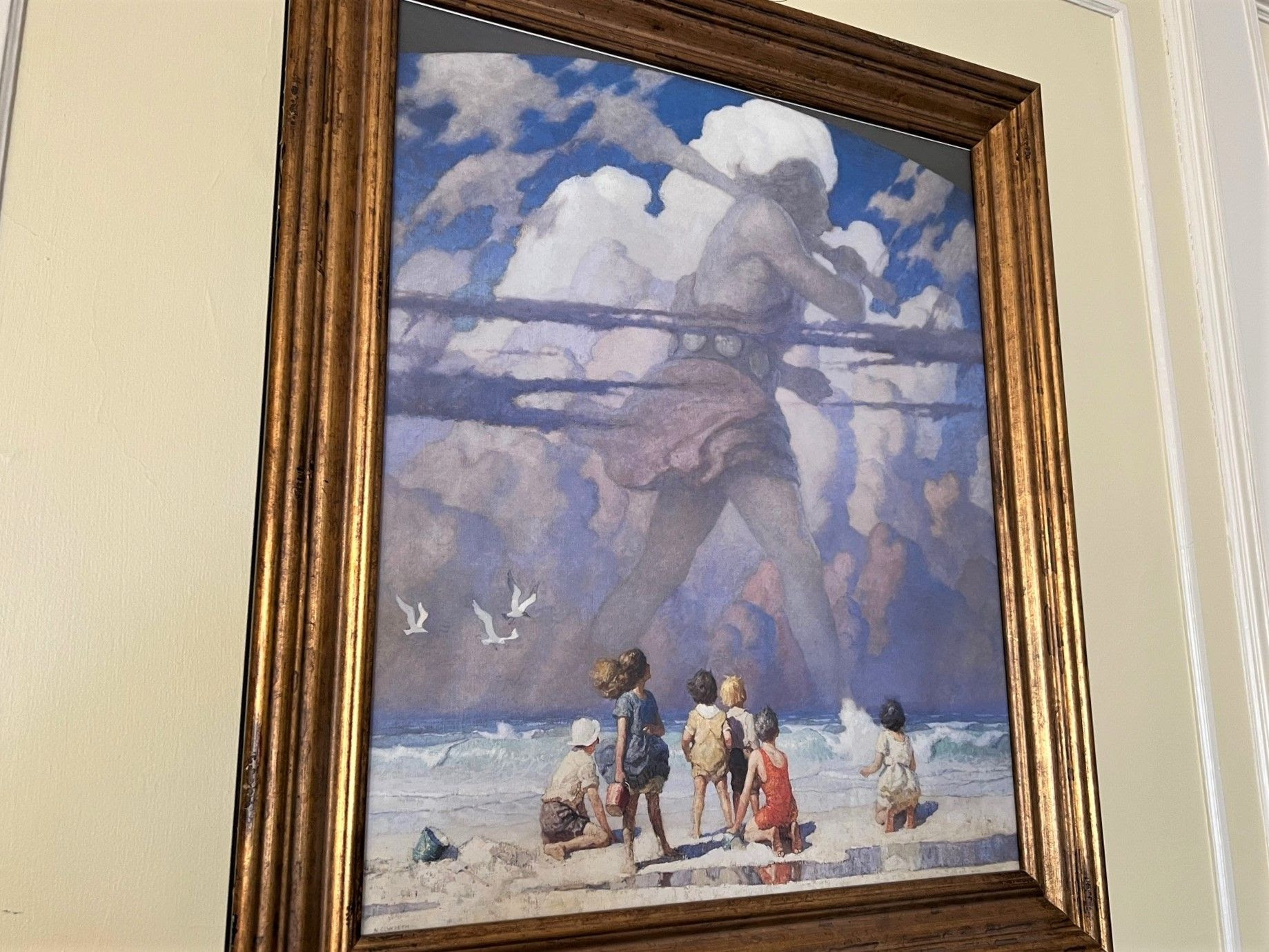 In my office, there is a print of N.C. Wyeth's painting "Giant." It depicts the spirit and imagination of a young boy and his friends. This week, our school meeting explored the role that our childhood spirit plays in our inner guidance system and how it is the foundation for our future vision. Students and faculty got into groups to answer the following questions:
1. Childhood Spirit - Describe yourself as a child, what were your passions? Was there an experience that captures your childhood spirit (tree climber, creative, outdoors, energetic, reader, etc.)?
2. Vision - Describe a goal that you have for your future. Maybe it is confined to one area, (college, athletics, becoming a scientist, comedian, etc.), or maybe it is something you envision on a larger scale (curing disease, prison reform, running a business, having your artwork in a major museum, etc.).
Faculty member Matt Radosevich shared his thoughts about his childhood spirit and how it related to Vedauwoo, a rock formation near his home in Wyoming: "I loved exploring around the rocks and crevices, and this was an ever-present source of energy for me as a kid. It gave me a foundation, but it was also a platform for testing my limits." He asked the community to think about what they were like as children. What did they love to do? What were they like? After talking, many students and faculty shared their childhood spirit or that of their partners:
· I was outdoors a lot and loved climbing trees.
· I was shy with groups but loud with my friends.
· I loved to read.
· I played with my Tonka Truck and created routes in the yard.
· I was either a clown with friends or felt like an outsider looking in.
· I was introspective.
· I was high energy.
Then the group shifted topics to discuss their visions, and a number of students and faculty came up to the podium to share their thoughts with the community:
· I want to go to college and wrestle, but later in life I want to travel the world and coach college athletes.
· My goal is to be an engineer and follow in the footsteps of my grandfather.
· My vision is to open my own business.
· I have wanted to be a pediatrician since I was a child.
· I am not sure about the job, but I want to be a person who is generally happy and fulfilled
As Mr. Radosevich said, "It may seem counter-intuitive to lean into your childhood spirit when you are trying to grow up, but there is a strong connection between our inner spirit and our dreams."
Laura D. Gauld '76
President & Head of School
Curiosity and Color in Art Class
Written by Jesse Higgins, Teaching Faculty
This week in Intro to Studio Art, students delved into color theory and practiced color mixing with an eye catching project. Color theory is the set of practices and principles that help artists mix and use color in their artwork. Some of the topics the students and I talked about: the color wheel, color as a light wave, complementary colors, and basic mixing principles. Students then mixed acrylic paint in the basic colors of red, blue, and yellow to create the secondary and tertiary colors.
At Hyde, the classroom is a collaboration between students and faculty. The core academic model at Hyde, the Teaching Triangle, illustrates how students and teachers come together with curiosity to explore and deepen their understanding of a subject. Art is the perfect arena for this exploration, as the creativity of students expands the teachers' understanding and vice versa. This process was evident in the myriad of forms and colors that students created in the color mixing project that pushed outside set boundaries created by the art teacher.
Students took in some college basketball at Bowdoin College Friday night with the Polar Bears beating Connecticut College 52-44. Former Hyde School Faculty Corey Begly is now coaching the Camels at CC.
Faculty Mary Agnes Edsall and Lisa Geller hosted students at the Captain Merritt House for some winter comfort food cooking.
At Monday's Community Meeting Cameron Su '24 gave a great P.A.C.E. Project presentation to the school.
Nominate Your Candidates for the Alumni Hall of Honor
Greetings Hyde School Community!
Several alums are helping generate the buzz for the upcoming We are Hyde Celebration June 9-11, 2023, and during the festivities, we will induct a new class to the Alumni Hall of Honor.
The Alumni Hall of Honor was established in 2016 to recognize alumni who exemplify the Five Words throughout the course of their lives:
Courage: I learn the most about myself through challenge and taking risks.
Integrity: Honesty is when my words match my deeds; integrity is when my deeds match my words.
Leadership: I am a leader by asking the best of myself and others.
Curiosity: I am responsible for my learning.
Concern: I need a challenging and supportive community to develop my character.
Thank you,
Craig Mael '71, Chair
Alumni Hall of Honor Selection Committee
Nominate candidates for Alumni Hall of Honor!
All nominees must have graduated at least ten years ago, so before 2013.
Nominations must include:
• The candidate's first and last name
• Class year
• The nominator's name
• The nominator's essay (250- 500 words) explaining how the candidate has exemplified the 5 Words in their life.
Submissions are due by March 1st, 2023.
For online submissions linked HERE
Submissions are also accepted by email at Alumni@hyde.edu​.
Wolfpack Recap
Friday, January 27
Swim Meet against Brewer
Saturday, January 28
Wrestling Meet at Roxbury Latin
Boys Ice Hockey Mt. Ararat/Hyde vs Brewer/Lawrence at Penobscot Ice Arena 5-8
BVBB Tournament at Bridgton Academy against Bridgton 30-70
Sunday, January 29
BVBB Tournament continued at Bridgton Academy 45-98
Monday, January 30
BJVBB vs Sacopee Valley 46-18
Boys Ice Hockey Mt. Ararat/Hyde vs Marshwood/Traip/Sanford/Noble at The Colisée 2-3
Tuesday, January 31
GVBB vs Busche Academy 23-81
BJVBB vs Waynflete 29-43
Swim Meet against Erskine at Wiscasset
Boys Ice Hockey Mt. Ararat/Hyde vs Fryeburg/Lake Region/Oxford Hills at Bridgton Academy 2-4
Wednesday, February 1
GVBB vs Bradford Christian 54-30
Aree King '23 with 26 points and Bailey Burke '23 with 14! Cam Lewis '23 with a monster game as well, 12 points, 14 rebounds and 6 assists.
BJVBB vs Islesboro 29-19
Boys JV hoops win a hard fought game against Islesboro 29-19. Pablo Aguilar '24 with 4 points, 10 rebounds, 7 blocks. Rafi Goldhirsch '23 with some clutch "veteran" moments down the end stretch of the game.
Upcoming Games and Meets
Friday, February 3
BVBB vs Wheeler (#2 in NE) 6:00pm home
Swim Meet vs Lincoln Academy at Wiscasset 6:30pm
*Senior night at the pool!
Saturday, February 4
GVBB vs Dublin 4:00pm away
Boys Ice Hockey Mt. Ararat/Hyde vs Lewiston at Bowdoin College 7:00pm
Northern New England Wrestling Tournament
The Northern New England Wrestling Tournament returns to the Hyde School Saturday, February 4, from 9:30am - 4:00pm at The Joe. Teams from across New England are invited to Bath to compete in the day long event. Check the Hyde athletic pages to see who comes away with the most pins, points and champions. #PinToWin
Teams Competing:
Andover
Exeter
Brooks
Lawrence
Middlesex
Marianapolis
Milton
BB&N
BCD
Landmark
Thayer
GFA
Check out all the latest news on wrestling on our new Instagram handle hydeschool_wrestling.
*Schedule subject to change, please check out Hyde Athletics and Hydeschool_Athletics Instagram handle for updates.