New Year Goals
As the students traveled back to campus from the Holiday break on Monday, faculty spent the morning in professional training and team building. One of the exercises involved identifying personal and professional strengths and areas of development. The next day, students went through the same exercise in the morning meeting. Examples of their contributions include:
Strengths
Determination
Strong Listener
Courage to take risks
Communication skills
Finding a way forward
Learner
Persistence
Always seeing the possibilities
Humor
Areas of Development
Need more patience with self and others
Follow through
Impulse control
Being more proactive
Commit to 100% effort
Let others see who I am
Let go when it is time
Improve technology skills
Not letting emotions control me
Since the theme of the winter term is Synergy, our discussions this week have focused on setting new goals for the new year and also on learning how to give, listen to, and accept feedback from others. While it is always challenging to return from the holiday break and lean into the winter months, these discussions have been uplifting as it is clear that our community has so much potential and insight to help each other be our best selves.
Inner Leadership - Developing one's Leadership from the Inside Out
During the school meeting this week, we focused on leadership development. While we can get caught up in believing that a leader is someone who is always strong and can do it all without help, real leadership is about getting in touch with one's strengths, challenges, and vision. Hyde defines this as Inner Leadership that is unique to each individual
In the meeting, selected seniors and faculty spoke about the Five Deliverables that are part of the Inner Leadership Model:
Self-Awareness - developing a sense of self and an awareness of one's strengths and challenges. Sam '23 spoke about the newfound awareness that helps him step back when frustrated and his commitment to hold himself accountable to the areas he needs to address.
Public Speaking Confidence - learning to utilize our "playground voice" in order to speak confidently, effectively, and powerfully. Bella '23 spoke about her shyness and fears to speak up prior to coming to Hyde. She has now learned how to handle many different speaking situations. Jose '23 discussed his fears about opening up and coming to Hyde from a different culture. As he said, "Now, my English has improved and my voice is heard much more around school!"
Tackling Challenges Outside of One's Comfort Zone - By summoning the courage to repeatedly put oneself into challenging situations, we can develop the grit and resiliency to succeed in the face of life's triumphs and challenges. Alyssa '23 talked about a time when an injury changed her perception of herself as an athlete. She had to learn how to contribute from the sidelines.
Meaningful Relationships - By supporting the best in each other, students learn how to have honest conversations, appreciate diversity, and practice compassion with each other. Spencer '23 talked about a friend he met in grade school who has stood by him and who continues to tell him hard truths and give him real support.
Family Context - As we reflect on our upbringing and our own actions, we gain an understanding of the strengths, challenges, and vision of our families. Rafael '23 shared the story of his adoption into a white family and how he came to understand both his parents and himself. Alice '23 discussed coming to Hyde and the effect it had on her ability to open up to her parents in new ways and create a deeper level of communication.
Students and faculty also acknowledged students in each category who have demonstrated growth and who were examples to follow. At the end of the meeting, we shared thoughts about what we were taking away from this school meeting:
"Life is about applying yourself."
"You never know when you will be tested and you need to be ready."
"We need others."
"This meeting really help me understand myself and what I am trying to accomplish."
It was a great meeting and a great way to kickstart our winter goals!
Laura D. Gauld '76
President & Head of School
As 2022 comes to an end, we look back at some of our favorite memories. These moments are possible because of the generosity from our alumni, HAPAs, parents and friends, along with our dedicated faculty and staff. Our students continue to inspire us with their courage, integrity, leadership, curiosity, and concern. Let us celebrate together the many joyful moments of 2022, and we can't wait to create new ones in 2023.
Boys Varsity Basketball Team NEPSAC Class C Champions
Spring Sports Awards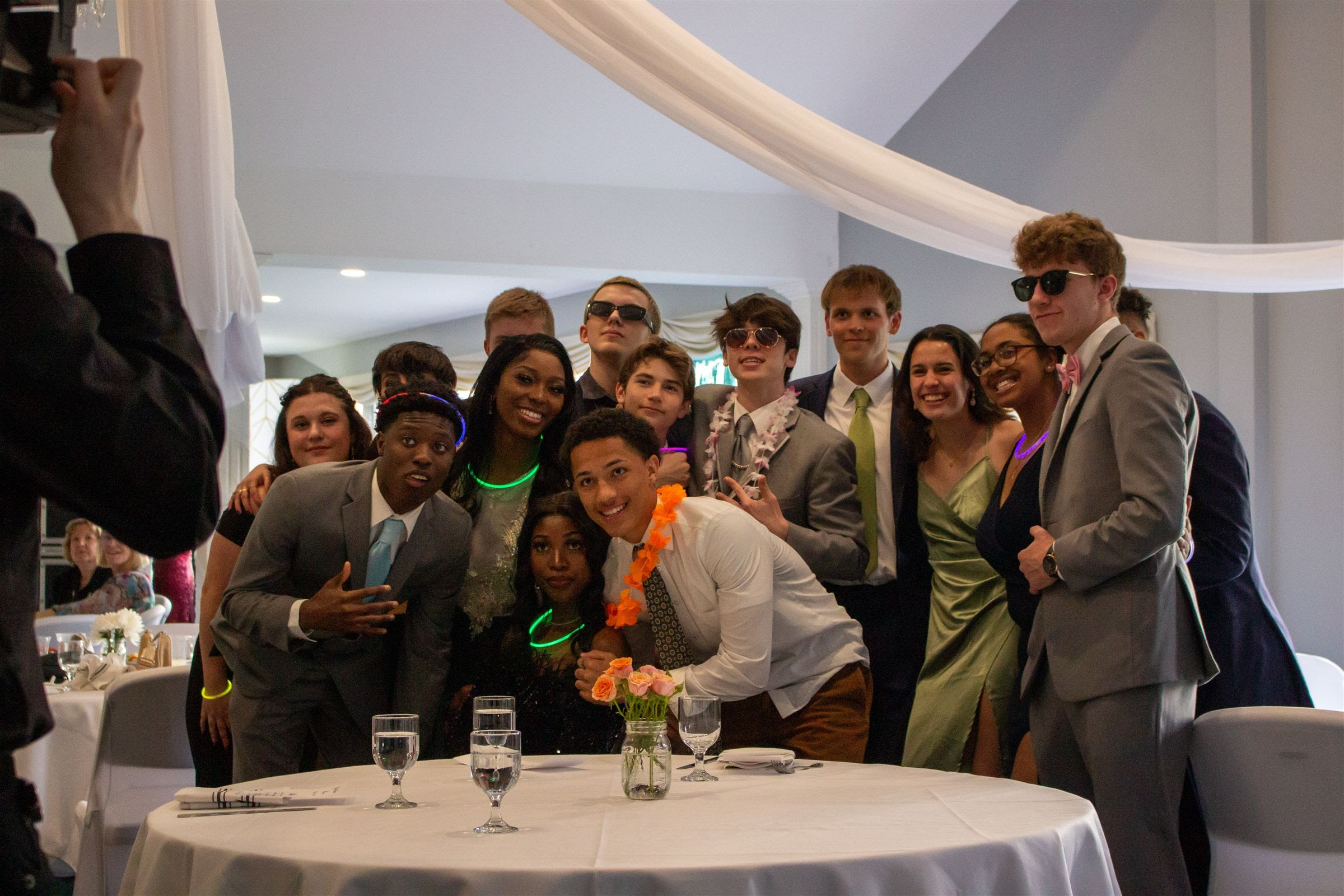 Senior Prom at the Bath Golf Club
Graduation of the Hyde Class of 2022
Summer Leadership Challenge white water rafting trip with Adventure Bound
Summer Leadership Challenge trip to Monhegan Island
Senior Sunrise at Popham Beach
Kayaking on Flagstaff Lake at the Lennox Outdoor Leadership Center, Hyde's north campus
Parents' performing arts routine at Fall Family Weekend
Maine Youth Leadership Day with Keynote Speaker Shawn Gorman, Executive Chairman of L.L. Bean
Boys Varsity Soccer Team NEPSAC Class D Champions
Countdown to We Are Hyde Reunion June 9 - 11, 2023
We are just six months away from our highly anticipated We Are Hyde Reunion 2023. Registration is open and can be found at We Are Hyde Reunion 2023. Register before March 31, and receive a free reunion t-shirt. All are invited from every year and every campus, and we can't wait to celebrate some major milestones. Hope to see you in June!
Milestones
Class of '73 (50th Reunion)
Class of '98 (25th Reunion)
Class of '13 (10th Reunion)
Class of '18 (5th Reunion)
Wolfpack Recap

Kingswood Invitational Tournament at Kingswood Oxford School in West Hartford, CT

Friday, December 16, 2022
GVBB KIT Tournament against Kimball Union 38 - 58
BVBB KIT Tournament against Green Farms Academy 68 - 64

Saturday, December 17, 2022
BVBB vs King School 46 - 58
GVBB vs Hopkins 54 - 55 (OT)


Sunday, December 18, 2022
BVBB vs Capitol Prep Harbor 25 - 71 (3rd Place Game)

GVBB vs Austin Prep 21 - 43 (7th/8th Place Game)

The Boys' Varsity Basketball team traveled down to Kingswood Oxford School on December 16th for the Kingswood Oxford Basketball Invitational. Our first game was against Green Farms Academy, 68-64. This win put the team in the semi-finals against King School, 46-58. We finished the tournament with a game against Capital Prep Harbor, where we lost 25-71. Two of our top players were taken out of the Capital Prep Harbor game due to disciplinary issues, which resulted in the low score and game loss. The team finished fourth overall.

This is not how the team envisioned their final game of the tournament, but it was a huge learning curve where many lessons were learned. We have some things to work on, but all in all, the tournament was a huge success and our players worked hard and played well. I am looking forward to returning next year with a different outcome. Tave Cloutier '25, was selected to the All Tournament Team and Jose Batista '23 was an honorable mention. This week, the Boys' Varsity team heads off to Brooklyn, NY to Canarsie High School to participate in the fourth annual Real Scout Big Apple Jamboree. Our first game will be Saturday, January 7th at 10:45 AM vs. Omina from Finland. On Sunday the 8th we'll face Covenant Prep from New Jersey. Go Wolfpack!

- By Coach Tom Bragg
Tave Cloutier '25 and Coach Bragg

Wednesday, January 4, 2023

Swim Meet at MT. Ararat

Aurelio Fusco '23 placed first in the 100 freestyle - congrats!
Upcoming Meets and Games
Friday, January 6, 2023
Wrestling Meet at Eagle Hill 4:30pm
Swim Meet at Cony/Ellsworth at 7:00pm
Saturday, January 7, 2023
GVBB vs Holderness 2:00pm (away)
4th Annual Real Scout Big Apple Jamboree at Canarsie High School in Brooklyn, NY
Saturday, January 7, 2023
BVBB vs Omina (Finland) 10:45am
Sunday, January 8, 2023
BVBB vs Covenant Prep (NJ) 12:30pm
January 10, 2023
BJVBB vs Oceanside 3:30pm (away)
Swim Meet at Lewiston 7:00pm
January 11, 2023
BVBB vs Lee Academy 4:00pm (home)
January 13, 2023
GVBB vs Berwick Academy - TBD
BJVBB vs Berwick Academy 3:30pm (away)
Swim vs Belfast @Blue Hill YMCA 6:30pm
*Schedule subject to change, please check out Hyde Athletics and Hydeschool_Athletics Instagram handle for updates. For more sports recaps visit the Hyde Team page at Our Teams.