Linking Us Through Our Humanity
As the school wrapped up this short December start to the winter term, we continued to lean into the theme of Synergy, Connections, and Kindness. Each Discovery Group had a simple assignment - enhance an individual or group with an act of kindness. The groups had to come to a consensus on what they would do and then make it happen. Some of the Acts of Kindness included:
Picking names off a giving tree and donating gifts to children
Baking cookies for the Hyde support staff, cleaning crew, and facilities workers
Having a clothing drive to deliver gently used clothing to those in need in Bath
Making and providing treats to the Bath Fire Department
Raising money for a group of nuns in the Philippines who work to assist sex trafficking victims
Donating baked goods to the local food pantry
Making cookies for the Salvation Army party held every year at Hyde for children in need of holiday joy
Along with this beautiful community service tradition, we gathered for the last school gathering of 2022 to give each student a comment about where they had a moment that exemplified one of Hyde's five character words - Courage, Integrity, Leadership, Curiosity, and Concern. Each student stood while their Discovery shared thoughts on their moment. Some examples of each comment:
"This fall, you modeled Leadership, using your voice and showing an exemplary commitment to growth. When you stepped up in a school meeting and acknowledged your mistakes with a peer, you set the tone for how we all need to treat ourselves and our peers with respect. Your leadership has made a difference for so many students who look up to you."
"Your commitment as a captain on the team this fall and your leadership have inspired your teammates and your coaches. You had the willingness to commit to and be patient in your pursuit of excellence. In your last race, you "left it all on the course." We've seen you trust your voice and your influence more as the year has progressed, and we look forward to seeing what you can accomplish next."
"You are a renaissance man. Whether as a student, athlete, or musician, when you put your mind to it you can do it all. This fall, you led your team and, most importantly, took pride in that role. We are proud of you."
During the meeting, the level of attentiveness was high as we wanted to hear each student's comment and acknowledge that much growth has happened in these last four months. Our work is far from done, however, and we have many moments of challenge when we do not live up to our potential as individuals or as a school. Indeed, it is easier to understand all the deep problems we are facing in our world when our day-to-day reality does not live up to our highest vision. Yet, our strengths will always outweigh our doubts if we can believe in our courage to go after our best and our courage to challenge each other to do this too. In the end, being kind to ourselves and to others has never been more needed.
Happy Holidays!

Laura D. Gauld '76
President & Head of School
Mondanaro/Truluck Disco baking and wrapping party. Their Act of Kindness was baking cookies for the kitchen staff and cleaning crew.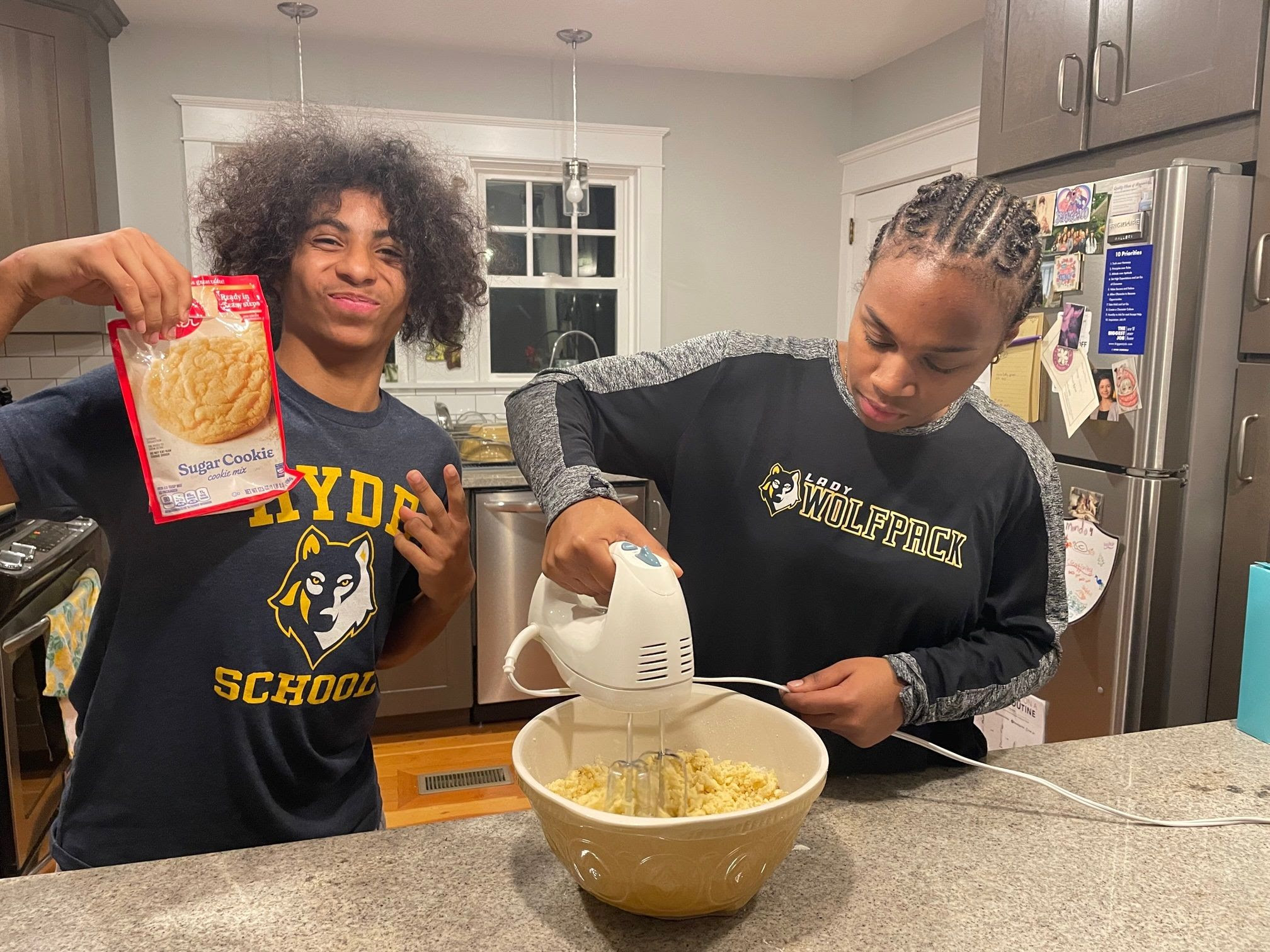 2022 Fall Sports Awards
Written by Stefan Jensen, Athletic Director
This past fall, Hyde athletics truly had some memorable moments that we'd all like to highlight and acknowledge. First and foremost, we would like to thank many of the people working on the sidelines that help make each game and meet possible. The kitchen crew for making all of the meals for numerous away games, the facilities team, and coaches. A special thank you to the Athletic Department, which includes faculty members Colin Babbitt, Dwyer Grimes and Geoff McConnell, and of course, our students Steven Heil, Noah Livingston, Nate Phillips, Santiago Bautista, Eli Remekie and Pablo Marrero.
This season had many highlights and here are just a few. The Girls' Soccer team's game against Wiscasset at home was a huge win with a final score of 4 – 1. The Cross Country home meets were always a great event that showcased the Hyde spirit. Congratulations to Paula Jakobi '24 for being the Cross Country Girls' Varsity MAISAD Champion and running a personal record 5K time of 22:19. Paula also competed in the NEPSTA Cross Country All-Star Meet, beating her personal record by two minutes. The Boys' Junior Varsity Soccer team previously lost to Gould 1 – 5. The team worked to improve their skills and beat Gould during their second match up 5 – 3. The Boys' Varsity Soccer team had two huge wins this season that included both the MAISAD Championship and the NEPSAC Championship. This was the team's fourth MAISAD title in nine years, and the team's first NEPSAC win since 2014.
This wouldn't have been possible without the support of the Hyde community and our amazing athletes, and we look forward to what the winter spirit brings! LET'S GO WOLFPACK!
Boys Varsity Soccer
Boys' Varsity Soccer Most Valuable Player Henry Pennell '24

Boys' Varsity Soccer Most Improved Player Sam Bergeron '23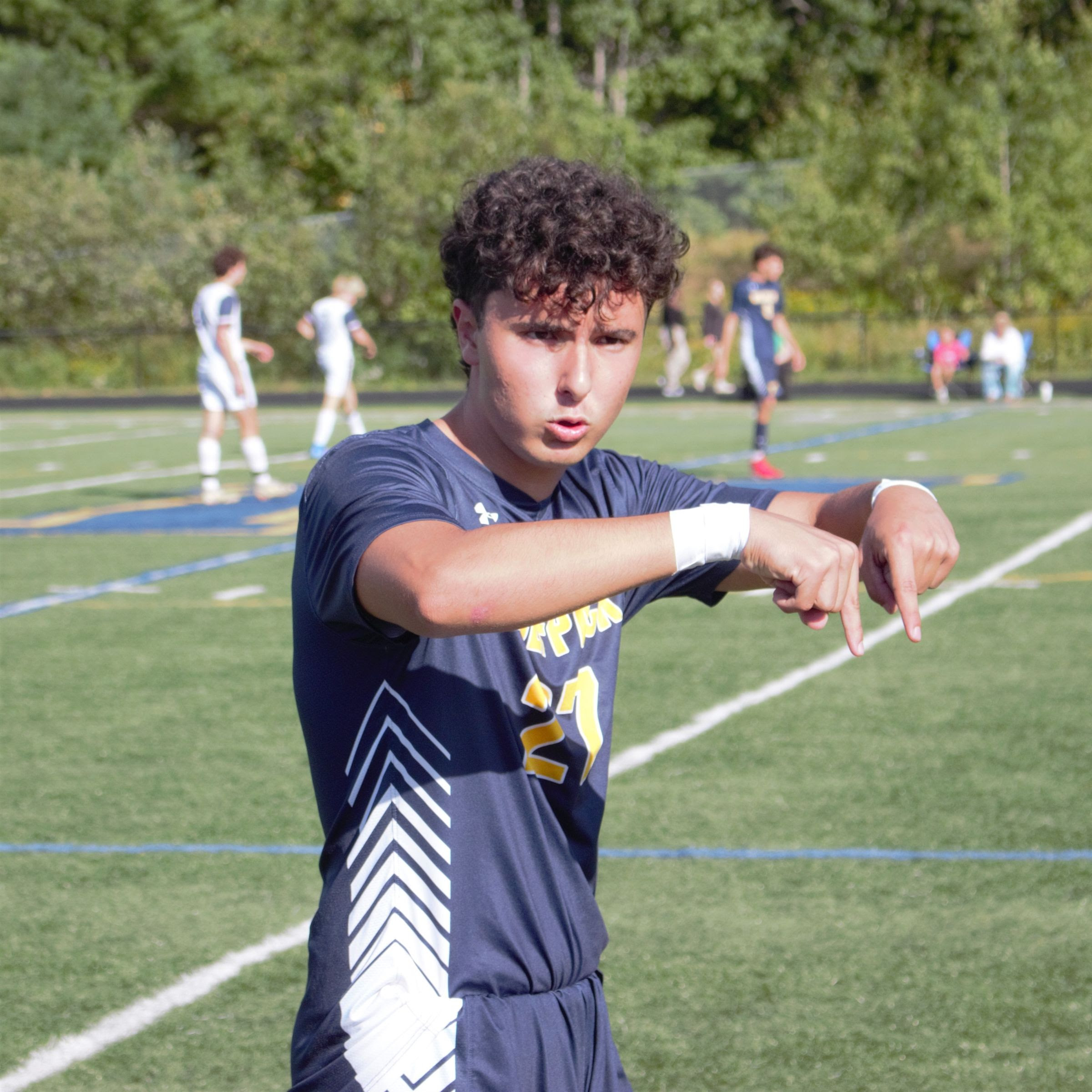 Boys' Varsity Soccer Coaches Award Lucas Artero '24

Boys Junior Varsity Soccer
Boys' Junior Varsity Soccer Most Valuable Player Jasper Herzog '26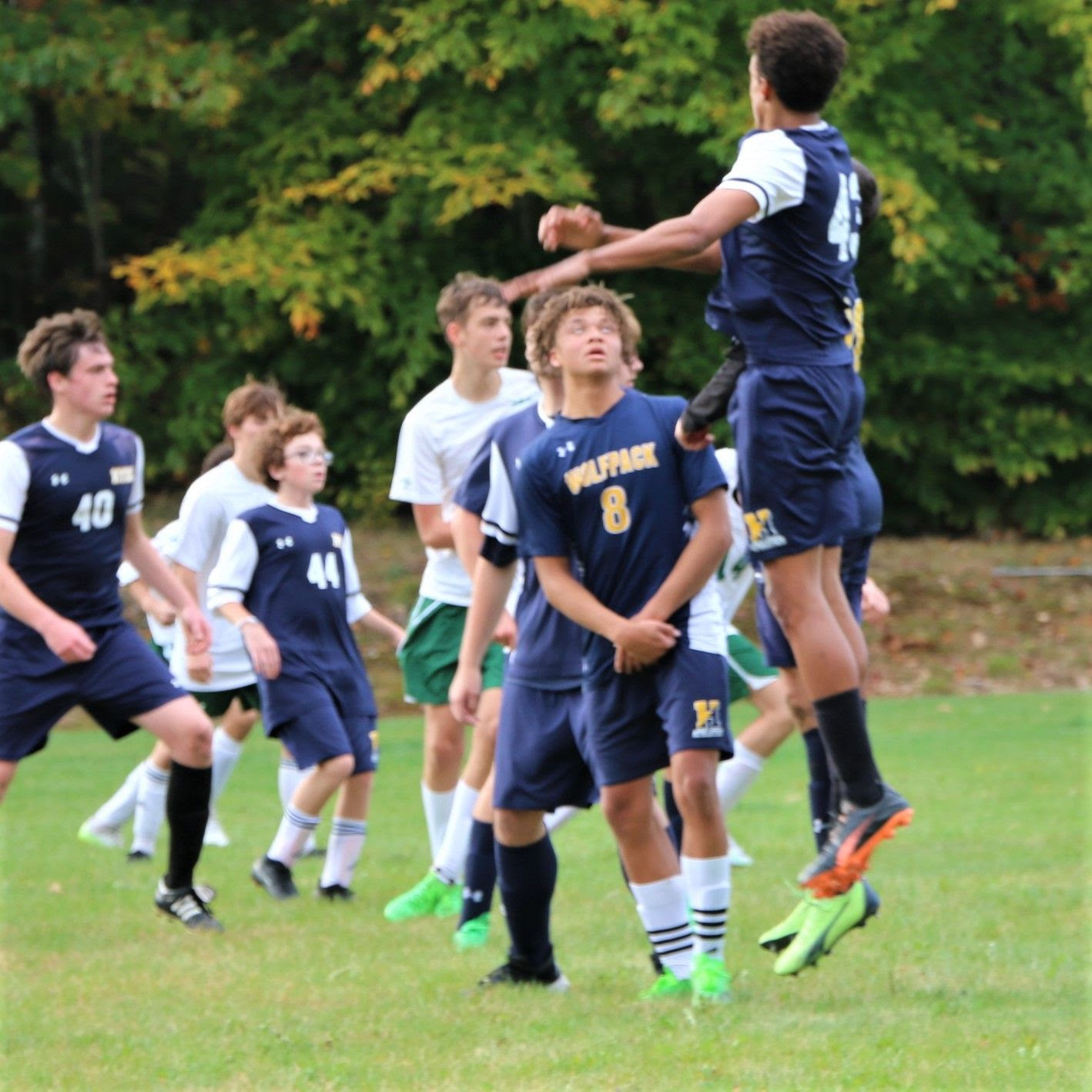 Boys' Junior Varsity Most Improved Player Ben Edelblut '25
Boys' Junior Varsity Soccer Coaches Award Dan McGuire '25


Girls Varsity Soccer
Girls' Varsity Soccer Most Valuable Player Camryn Lewis '23
Girls' Varsity Soccer Most Improved Player Maria Garcia '25

Boys' Varsity Cross Country
Boys' Cross Country Most Valuable Player Jayshawn Bruce-Albert '24
Boys' Cross Country Coaches Award Nate Phillips '23

Girls' Varsity Cross Country
Girls' Cross Country Most Valuable Player Alyssa Sigfridson '23
Girls' Cross Country Most Improved Player Kate Kandalova '25

ALL MAISAD TEAM

Boys' Varsity Soccer:

Lucas Uzquiano '24

Matthew Groves '24

Pablo Gomez '24

Pedro Bernal '25

Boys' Varsity Cross Country

Nate Phillips '23

Girls' Varsity Cross Country

Paula Jakobi '24

All Nepsac

Spencer LeClair '23

Nacho Garcia '23

Leo Felipe Castro '23

Henry Pennell '24
2022 Fall Sports Banquet
Thursday, December 14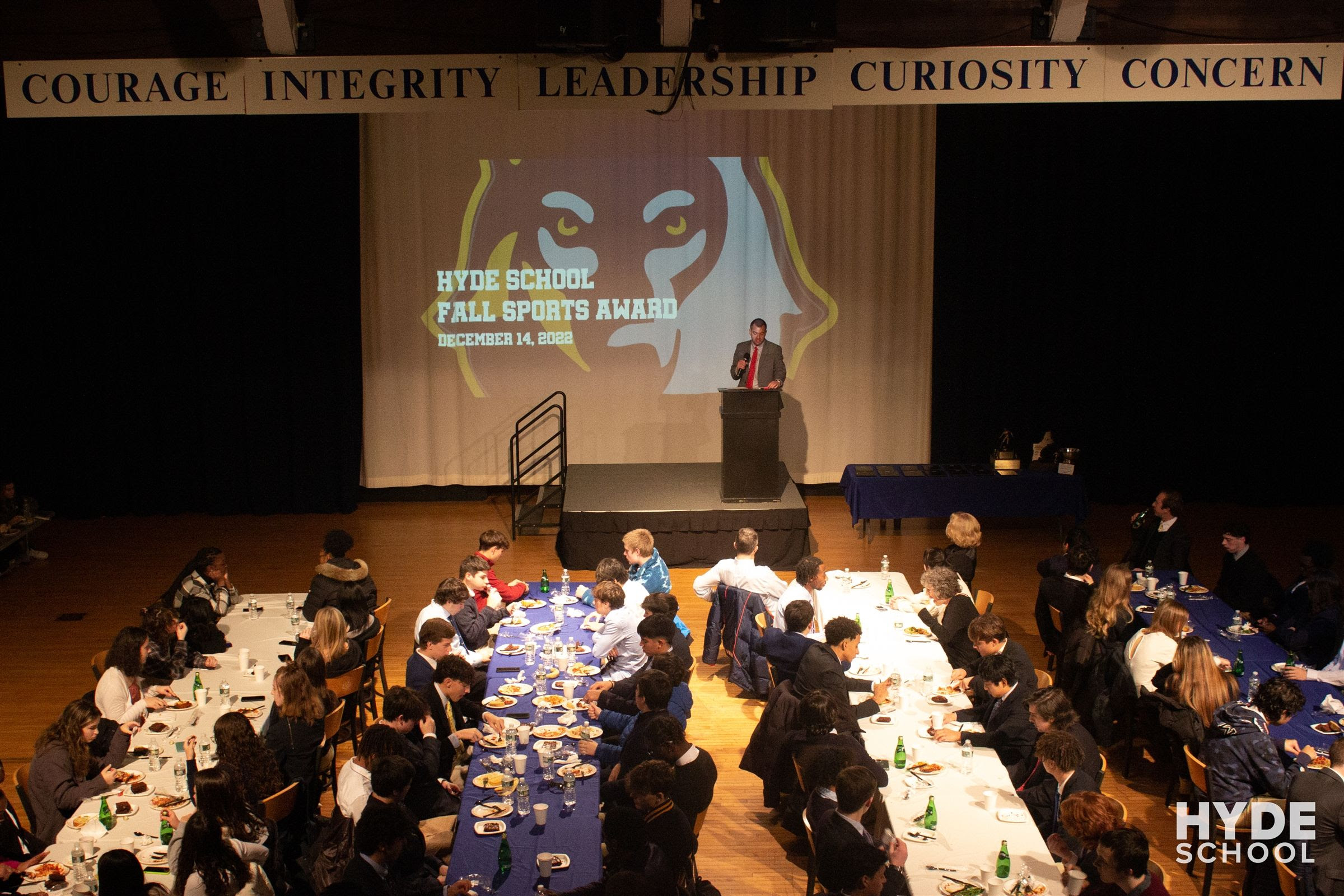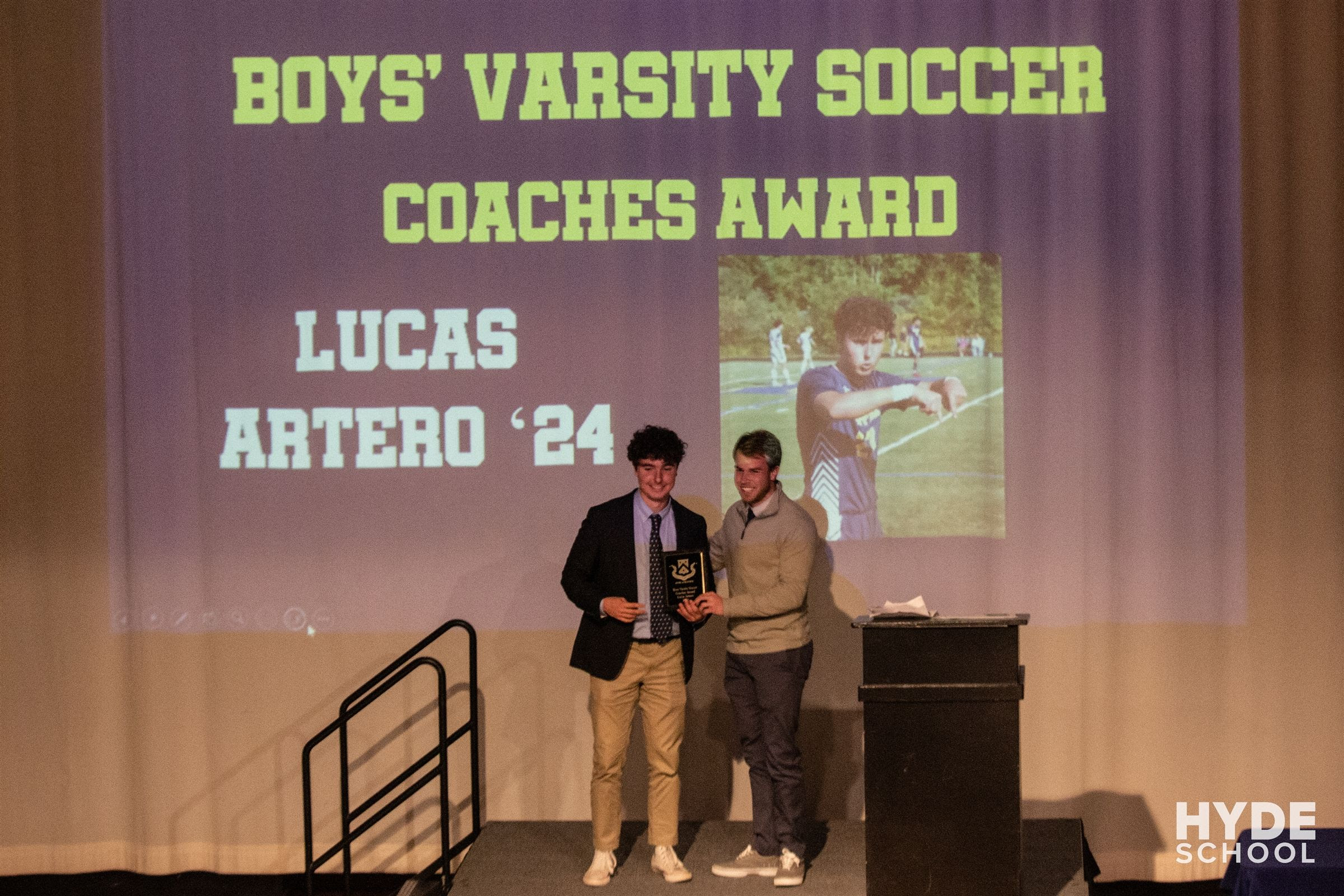 Hyde's Annual Salvation Army Christmas Party
Written by Sydney Wall, Assistant to the Dean of Students and Kyle Rougeau, Assistant to the Head of School
The Hyde School has a long tradition of working with the Salvation Army to host a Christmas party dating back to 1994. On Saturday, December 10th, families were treated to an evening of holiday cheer in the Mansion that included story time in the Teak Room, cookies and hot coco under the chandelier, and a special visit from Hyde's very own Santa Clause. When this Santa isn't busy at the North Pole, he teaches chemistry and precalculus. Student elves volunteered by wrapping gifts, baking cookies, and being hosts on the night of the event. This year Hyde faculty came together to give each family a gift card to put towards their Christmas dinner.
The Salvation Army Christmas Party is a time when students, staff and faculty come together to give back to the community. This beloved tradition of the Hyde School is one we look forward to each holiday season, and brings us so much joy to be able to create lasting memories for Maine families. On behalf of the Hyde School, we want to wish everyone a wonderful holiday, and happy and safe New Year.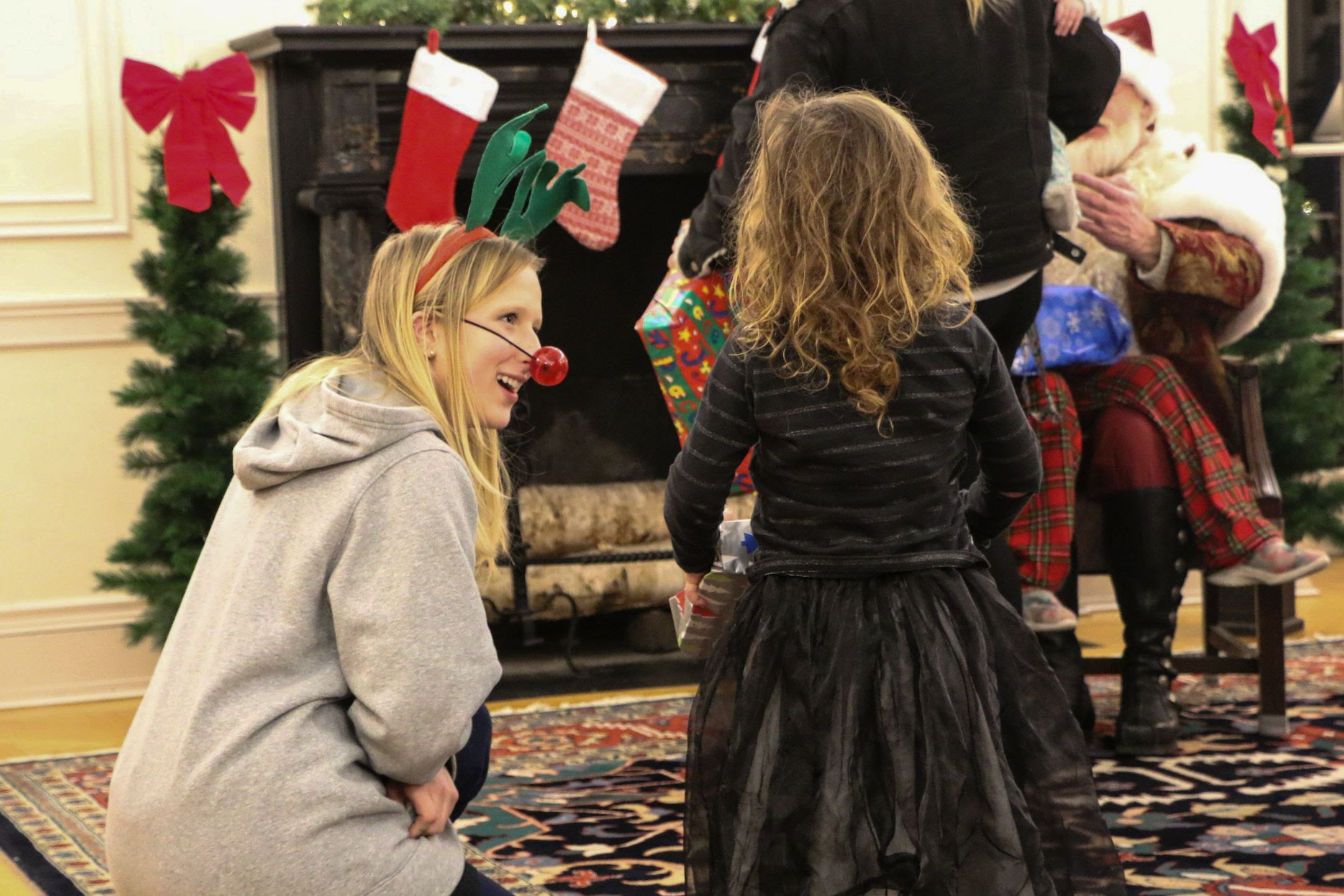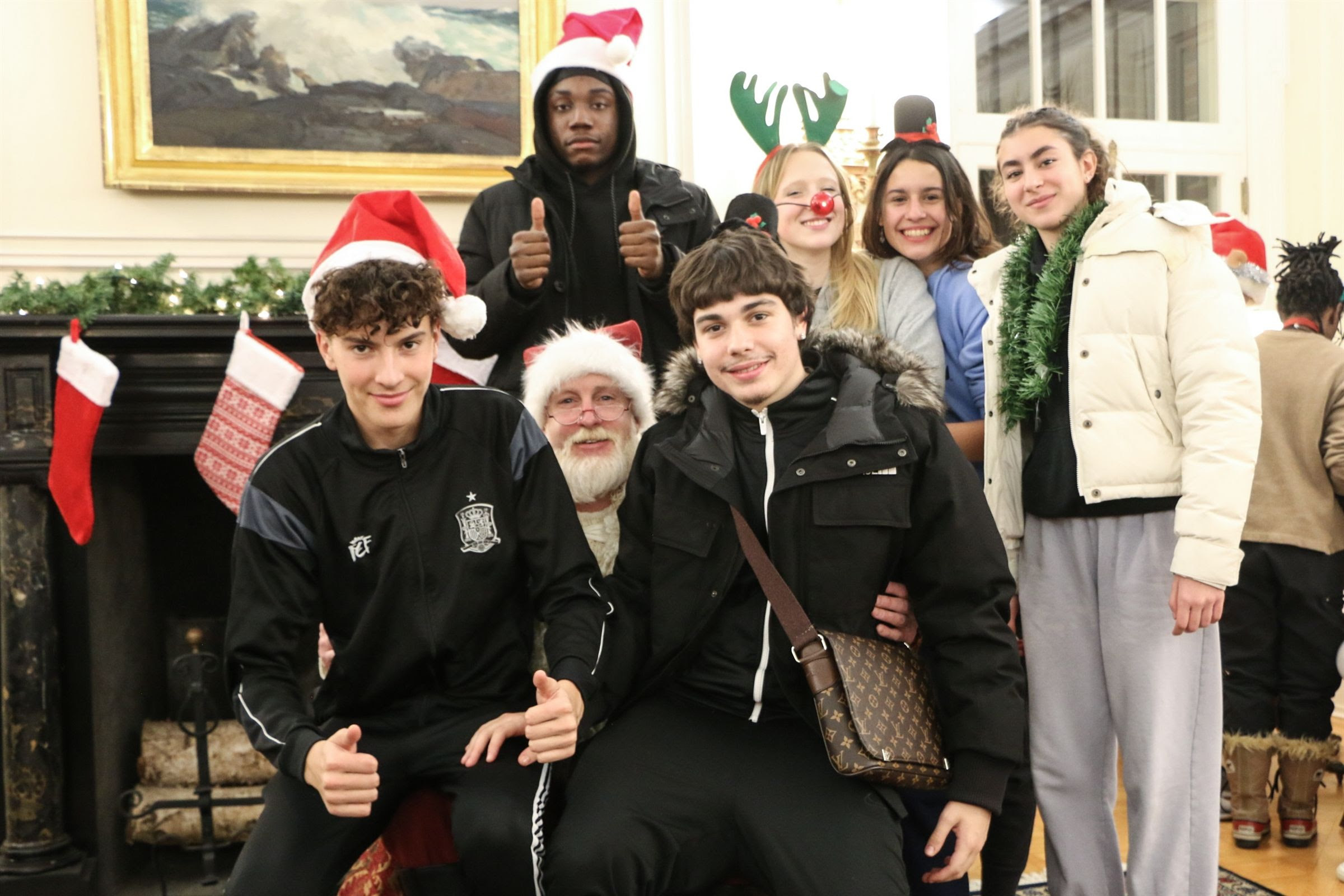 Wolfpack Recap
31st James Roman Tournament
In athletics, James Roman, who wore number 14—a number now retired at Hyde— was equally hard-working and impressive. He is, in particular, remembered by many for his performance during a game at the Augusta Civic Center during the 1988 Western Maine Class B, C, and D Basketball Tournament. James fired two straight 15-foot shots that kept Hyde in the game against Valley High School of Bingham. Hyde went on to win in overtime 80-78. The James Roman Tournament represents the investment in people and sportsmanship that James had in life.
Friday, December 9
GVBB Hyde vs Penguin Hall 47 - 35
New York Military Academy vs Kents Hill
BVBB Hyde vs Kents Hill 54 - 38
Green Farms Academy vs Bradford Christian
Saturday, December 10
GVBB Championship Game Hyde vs New York Military Academy 35 - 71
BVBB Championship Game Hyde vs Green Farms Academy 58 - 50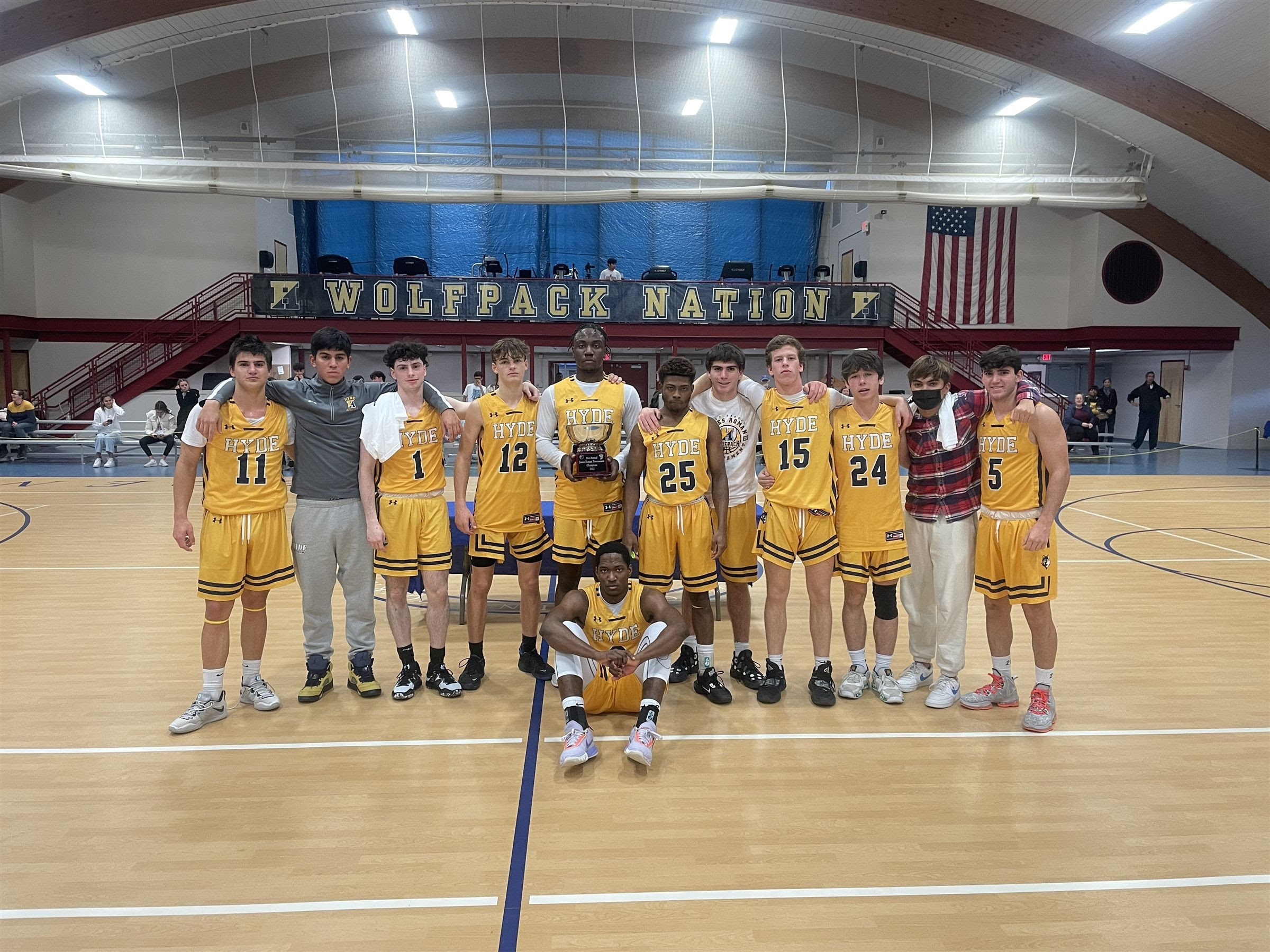 Congrats to the boys varsity hoops team on winning the James Roman Tournament
Congrats to Aree King '23 for winning the Sportsmanship Award
Meets and Games
Kingswood Invitational Tournament at Kingswood Oxford School in West Hartford, CT
To check out updates on scores and brackets visit KIT Tournament. Games will be live streamed on KO's YouTube page KO Streams.
Friday, December 16
GVBB KIT Tournament against Kimball Union 2:30pm away
BVBB KIT Tournament against GFA at KOA 4:00pm away
Saturday, December 17
KIT Basketball Tournament - TBD
Sunday, December 18
KIT Basketball Tournament - TBD
*Schedule subject to change, please check out Hyde Athletics and Hydeschool_Athletics Instagram handle for updates. For more sports recaps visit the Hyde Team page at Our Teams.