Inspired Learning
In traditional academic settings, the learning triangle emphasizes a primary connection of Teacher to Subject that determines the third vertex - the Student. At Hyde, we strive to focus on the relationship between the Teacher to the Student as they explore the Subject together. The educational focus shifts from the subject to the student. When the Learning Triangle is working, the teacher becomes more of a coach than a professor and the student becomes more of an initiator than a follower.
This week, we gathered as a school to recognize those students who inspired with us their efforts and excellence in the academic subject areas as well as those students who showed improvement in learning efforts both in and outside of the classroom. Students were nominated, and each teacher wrote a short blurb to highlight their work. An example of this writing:
Senior Excellence in Learning (English)
This student was an exemplary student in the fall term of English 12. He is diligent, always prepared for class, and asks clarifying questions that benefit his fellow students who may be too shy to speak up. He is an insightful reader, and his writing is strong. Most of all, he wants to learn. As a result, he has profited from all constructive criticism and is showing signs that he will grow into a first-rate writer. Well deserved, Sam Bergeron '23 is our Senior Excellence in English. M.A. Edsall
There was excitement under the chandelier as we heard the names of returning and new students in these categories, and each recipient was cheered with enthusiasm. We look forward to seeing more growth in the second trimester and hope this ceremony helped inspired everyone to test themselves in the classroom!
Laura D. Gauld '76
President & Head of School
2022 Fall Academic Awards
Arts
Awarded in Excellence
Bella Valerio '23
Julia Galan da Silva '24
Awarded in Effort
Hap Edelblut '23 and Aurelio Fusco '24 and Alice Poetto '23
English
Awarded in Excellence
Sam Bergeron '23
Aidan Gahr '25
Awarded in Effort
Matt Galligos '24 and Jeffray Pozharsky '23
Foreign Language
Awarded in Excellence
Paolo Iacobello '23
Maggie Teed '25
Awarded in Effort
Jayshawn Bruce '24 and Jasper Herzog '26
History
Awarded in Excellence
Joaquin Ezan '23
Brady Kruep '26
Awarded in Effort
Camryn Lewis '23 and Jason Wolf '24
Math
Awarded in Excellence
Bailey Burke '23
Yan Klintchev '25
Awarded in Effort
Pablo Marrero '24 and Eli Rememkie '26
Science
Awarded in Excellence
Steven Heil '23
Paula Jakobi '24
Awarded in Effort
Alyssa Sigfridson '23
Courage in the Classroom Julian Pechect '25
Curiosity in the Classroom Leonardo Broccoli '23, Brady Kruep '26, and Yan Klintchev '25
Leadership and Concern in the Classroom Camryn Lewis '23
Leadership and Integrity in the Classroom Spencer LeClair '23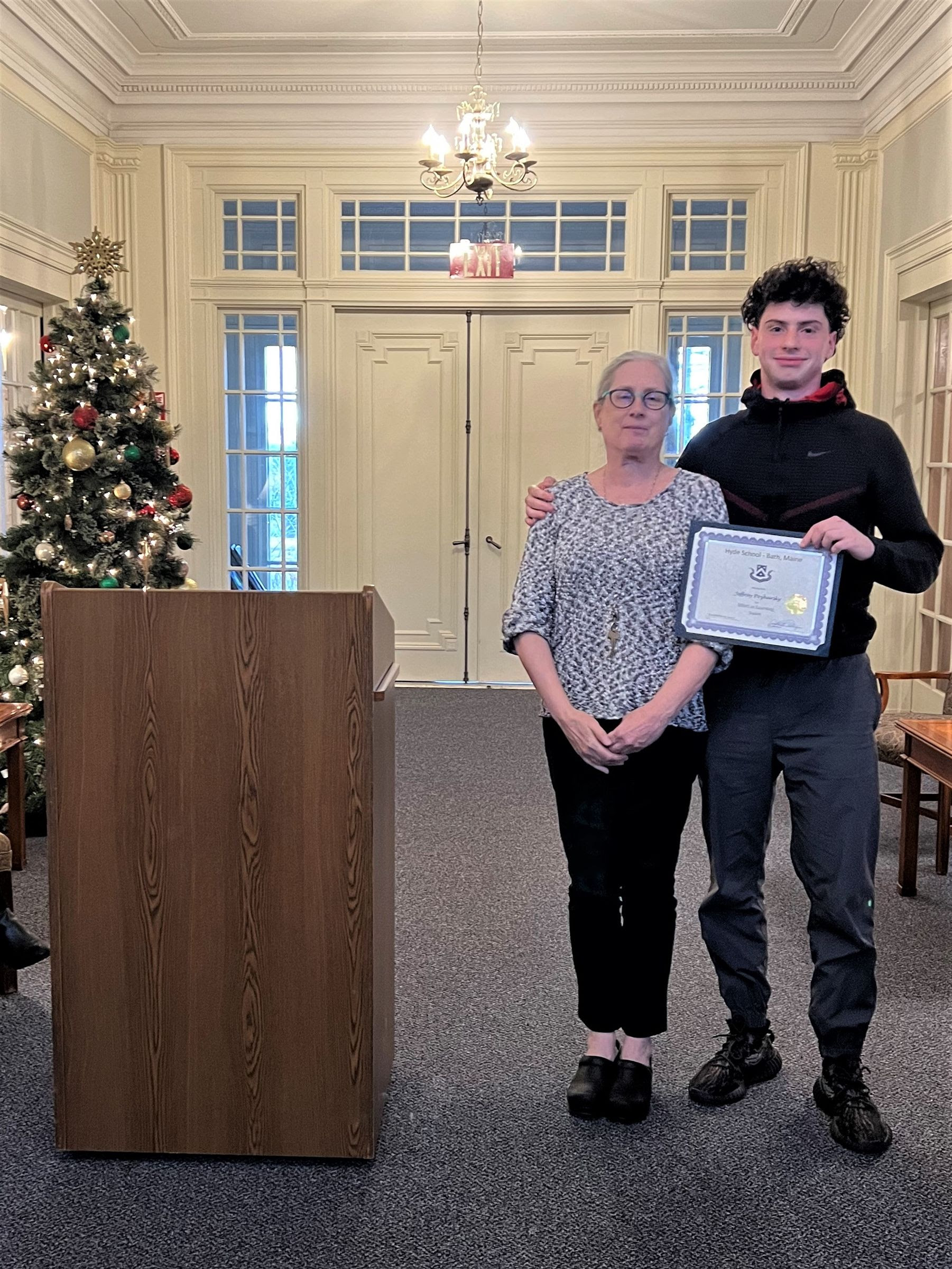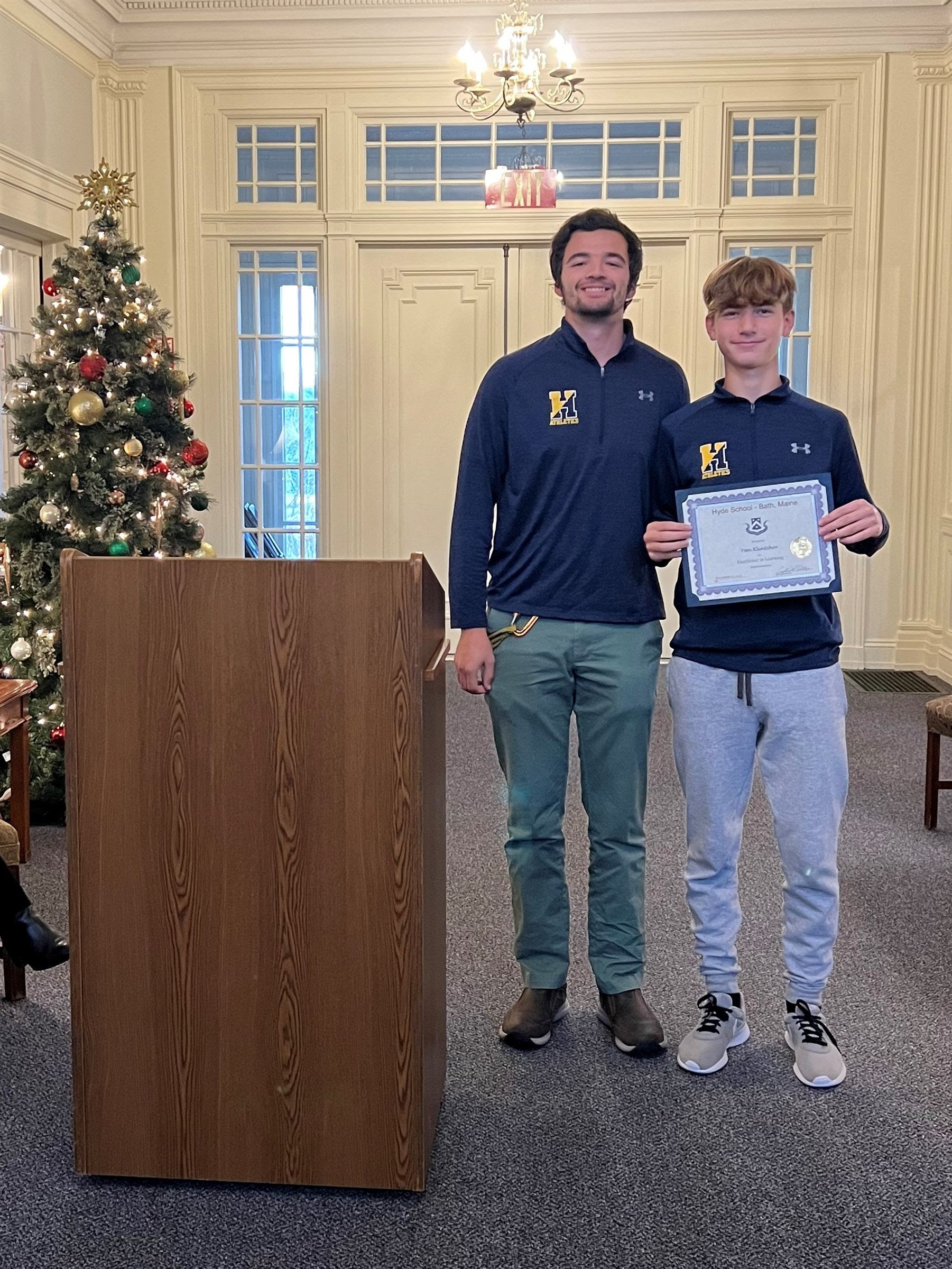 Getting into the holiday spirit
To kick off the holiday season, students gathered Friday night in the Dining Hall to make snowflakes and to enjoy a hot chocolate and cookie bar.
A group of students went to see the Nutcracker in Portland with with Mrs. Peltzer and Ms. Hanley.
The fun continued with wreath making at the farm.
Winter Break December 16, 2022 - January 2, 2023
Winter break is just around the corner. If you haven't already, please send your travel information and any questions to Sydney Wall in the Dean's Office. Thank you.
*Please note that if your child is on either the boys or girls varsity basketball teams, they will have their final game on Sunday, December 18.
Wolfpack Recap
Saturday, December 3
GVBB vs Gould - Aleigh Mills Tournament 11:30am 41 - 38
GVBB vs Kents Hill - Aleigh Mills Tournament 1:00pm 25 - 61
BVBB vs New Hampton Varsity 35 - 34
Monday, December 5
BJVBB vs Morse HS 35 - 50
BVBB vs Morse HS 57 - 39
Wednesday, December 7
BVBB vs Brewster 41 - 52
BJVBB vs Waynflete 43 - 30
GVBB vs Vermont Academy 33 - 20
Boys JV hoops got their first win of the season against Waynflete 43-30 final. Dan McGuire '25 shot a monster double-double 16 points and 18 blocks! Ben Edelblut '25 and Eli Remekie '26 with solid performances on the offensive and defensive end. Rafi Goldhirsch '23 supplied the team with much needed leadership down the stretch! Great team win!

Girls varsity got an important win over Vermont Academy 33-20 final
Thursday, December 8
Wrestling vs Mt. Ararat - link below to watch the match.
Meets and Games
James Roman Tournament
Friday, December 9
GVBB Hyde vs Penguin Hall 4:00pm
NYMA vs KH 5:30pm (girls)
BVBB Hyde vs KH 7:00pm
GFA vs Bradford Christian 8:30pm (boys)
Saturday, December 10
GVBB Consolation Game 10:00am
BVBB Consolation Game 11:30am
GVBB Championship Game 1:00pm
BVBB Championship Game 2:30pm
Monday, December 12
BJVBB vs Kents Hills 5:30pm home
Friday, December 16
GVBB KOA Tournament against Kimball Union 2:30pm away
BVBB KOA Tournament against GFA at KOA 4:00pm away
Saturday, December 17
KOA Basketball Tournament - TBD
Sunday, December 18
KOA Basketball Tournament - TBD
*Schedule subject to change, please check out Hyde Athletics and Hydeschool_Athletics Instagram handle for updates. For more sports recaps visit the Hyde Team page at Our Teams.