Ukraine Journey
This week, in our PACE Project class (People are Created Equal), we had a student speaker, Kate Kandalova, speak about her home country of Ukraine and the journey she and others have been on in the last year as Russia invaded their country without provocation. Faculty member Liz Rhaney introduced Kate with the following words, "In our PACE Project, we learn that we are all created equal and are intertwined. Yet we each have different journeys and when we share that, our connections become stronger. It takes courage to stand up here and share and we all need to remember that something that happens in another part of the world has an effect on all of us."
Kate shared some history about Ukraine and her hometown of Kharvic. As she said, her life before the war was in many ways, similar to the teenage experience in the US. She claimed it all changed on one night: "It was night. We were not sleeping even though it was 12 am as there were explosions in our city. Airplane bombings started and we were forced to hide in the pantry and at that moment, a plane flew overhead and dropped a bomb that exploded 600 meters from us."
She took questions from the community and went on to discuss how the war has influenced her, and how proud she and others are of the leadership of President Zelensky. Leaving her family to come to the US to Hyde was difficult, but she is grateful for so much in her life. "I started appreciating the small things that we all take for granted."
The presentation moved all of us, and several students and faculty shared what they took away from the presentation:
"Thank you, Kate, for having the courage to speak about something so challenging and personal."
"I learned a lot today about the country and what they have been going through."
"We all have to remember that people may be going through things that are not obvious to others."
We are so proud to have Kate in our community, and we stand together with so many others in the world who support Ukraine and its leader Zelensky as they stand up for their freedoms and for world principles.

Laura D. Gauld '76
President & Head of School
Spring Break March 3 - 20, 2023
Students will be released for Spring Break on Friday, March 3, 2023. Hyde will be chartering a bus Friday morning departing at 7:30 AM. Please make your travel plans for this day. The charter bus will be making stops at the following locations:
Portland and International Jetport - 8:30 AM
Logan International Airport - 11:00 AM
South Station - 11:30 AM
We will be chartering a return bus through the same company (Custom Coach & Limousine) for Monday, March 20, 2023. Please make sure that your child is at the return meeting location at least a half hour before the bus is scheduled to depart. The departure times and meeting locations are as follows:
South Station - 3:30 PM (Atlantic Avenue bus lane)
Logan International Airport - 4:00 PM (Terminal B bus parking on lower level)
Portland International Jetport - 6:30 PM (small, uncovered parking lot across from baggage claim)
Please keep in mind a few things: If flight or travel arrangements change after students are dropped off at their travel locations, parents will be responsible for making new arrangements. There will be faculty members on duty on travel days and they can be reached by calling the duty phone.
Click below to sign-up for Spring Break transportation.
https://www.hyde.edu/community/transportation
For travel day questions and concerns, please contact Sydney Wall in the Dean's Office. Thank you.
2023 Snow Bowl Students vs Faculty
Students competed against the faculty in the annual SNOW BOWL on Thursday, February 23.

Faculty took the win 47-31. UNTIL NEXT TIME!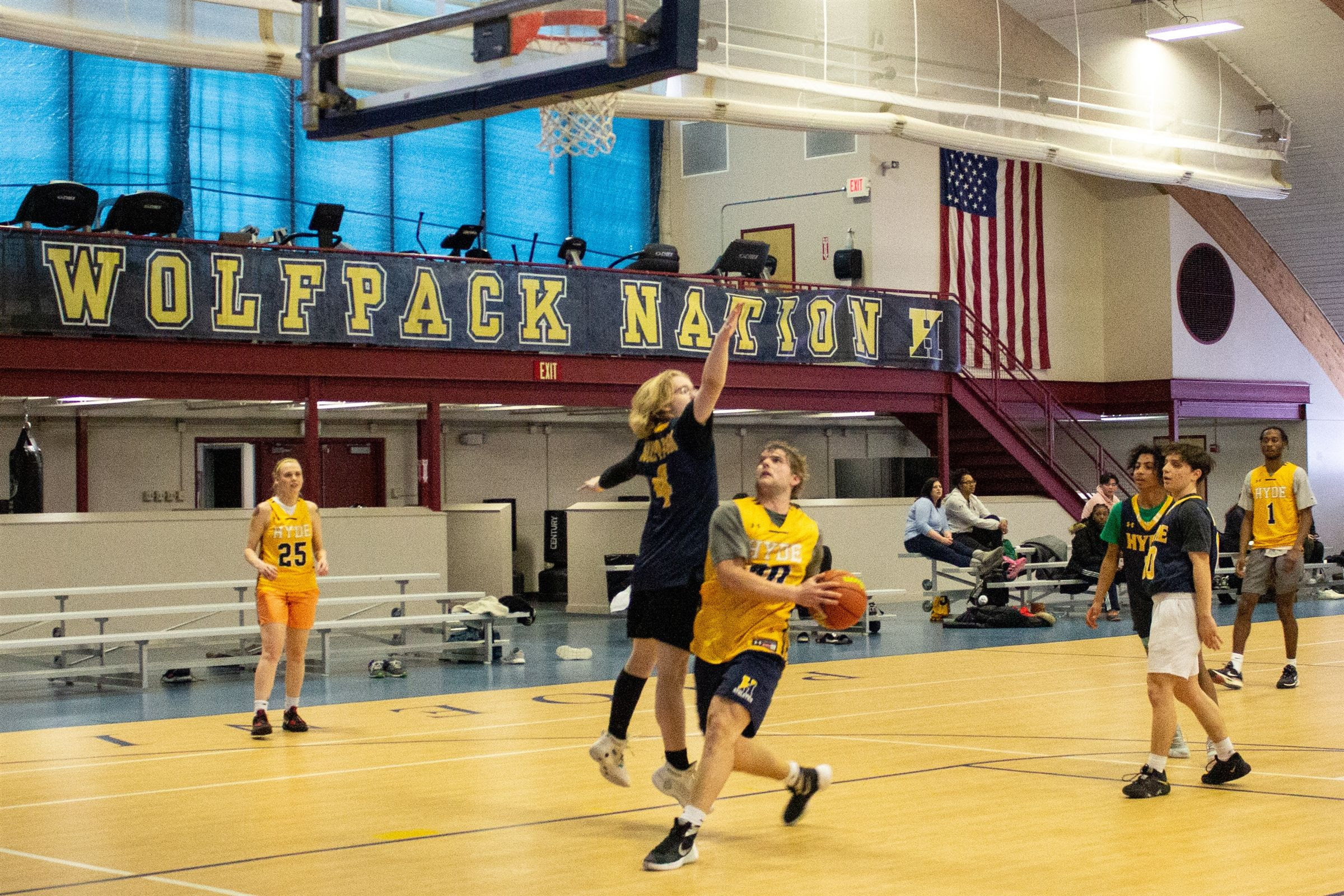 Wolfpack Recap
Friday, February 17

BVBB vs Bradford Christian 67-40

Saturday, February 18

Boys Ice Hockey Mt. Ararat/Hyde vs Bangor at Sawyer Arena 0-12

New England Preparatory School Wrestling Association (NEPSWA) Championships at Phillips Academy in Andover, MA

Spencer LeClair '23 finished 2nd in the New England Championships at 157lbs. Hyde finishes 18 out of 43 teams at the tournament. Spencer by himself, beat over half the teams in New England. Couldn't be more proud of this guy!

Tuesday, February 21

Boys Ice Hockey Mt. Ararat/Hyde vs Thornton Academy at Bowdoin College 0-9

GVBB vs Penguin Hall 50-31

State Swim Meet at Colby College

Congrats to Paula Jakobi '24 placing 17th in the 50 free and 14th in the 100 backstroke.
Wednesday, February 22
BJVBB MAISAD Finals vs KH 43-28
BVBB MAISAD Semifinals vs New Hampton 63-44
Upcoming Games and Meets
Friday, February 24
Spencer LeClair '23 and Coach CJ Jenson head to the 87th Annual National Prep Wrestling Championships at the Showplace Arena in Upper Marlboro, MD
National Prep Wrestling Brackets
Saturday, February 25
Continued 87th Annual National Prep Wrestling Championships at the Showplace Arena in Upper Marlboro, MD
GVBB (Senior Day) vs Bradford Christian Noon home
BVBB MAISAD Finals vs Brewster 2:30pm away
Check the Hyde School Athletics' pages (links below) for updates on the NEPSAC Basketball finals.
*Schedule subject to change, please check out Hyde Athletics and Hydeschool_Athletics Instagram handle for updates.
HALL OF HONOR NOMINATIONS