We Are Family
This past week, we welcomed our parents onto campus for Hyde's family weekend. Along with many of the usual parent weekend activities, Hyde's traditions involve bringing together all of our community, families, students, and faculty, to create a shared learning atmosphere. A few examples of the weekend activities were:
Academic classes
Athletic contests
Family seminars
Community meetings
Performing arts for everyone
Family time
Our theme for the weekend was "Set High Expectations and Let Go of the Outcome." Prior to the weekend, all students and parents journaled on the following questions to discuss in their family seminars:
Describe a time when I went after my best and set high expectations. What happened and what did I learn?
When was a time that I quit on something? Describe the experience and what I learned.
During the Saturday morning community meeting, a group of students, parents, and faculty spoke during a panel discussion on our theme. The panel questions included:
Think of someone in your life who modeled having high expectations. What did they teach you?
What is something you have gone after in your life where you had to let go of outcomes - what did you learn about yourself?
Throughout the weekend, the atmosphere was filled with the synergy of families working on their growth, both students whose parents were on campus as well as international students who went over the exercises with their parents on FaceTime. On Saturday night, there was an impromptu gathering around Schuller circle. For over an hour, parents, students, and faculty broke into all types of songs. What was amazing was that the students and parents all stayed together and had some old-fashioned fun together. As one student said, "It was a highlight for the weekend, and I actually enjoyed it!"
When asked about lessons learned from the weekend, students replied:
"I learned how to listen to my family in a new way."
"I learned that we have more in common than I thought."
"This weekend, my Dad took a step to share himself with me."
"I really connected with the other families in our Discovery Group."
It was a powerful example of what can happen when parents "go to school" along with their children.
Laura D. Gauld '76
President & Head of School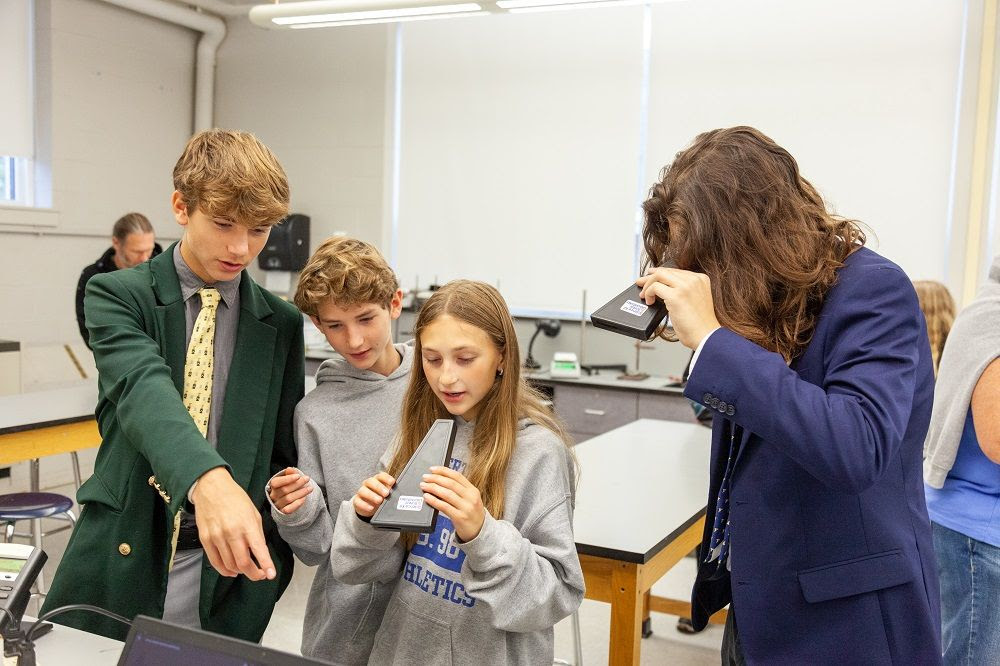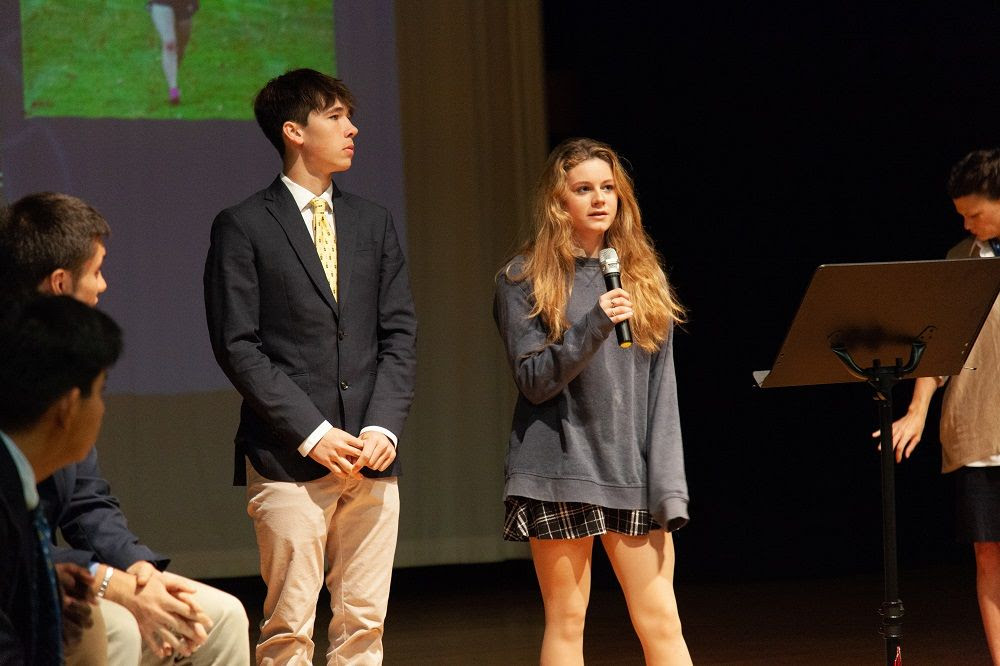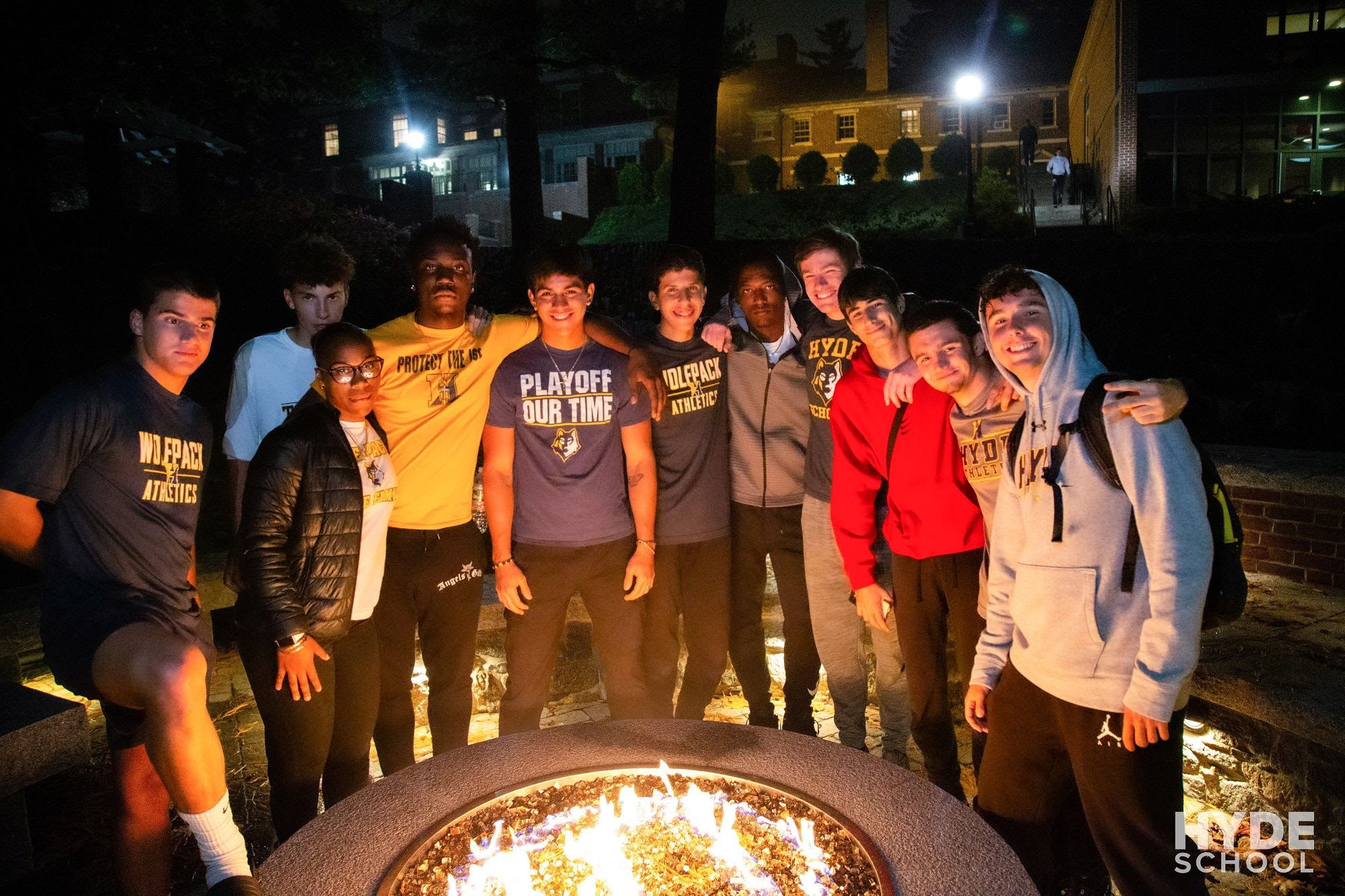 Taking Care of Ourselves and Each Other
October 19 - 20, 2022
A recent group of educators was asked about the shifts they were seeing in young people past the pandemic. Some of their answers highlighted issues that have been on the rise for a while and some are more recent themes:
Decline in social norms and social skills
Lack of trust in authority figures
Increased anxiety and depression
Difficulty in having difficult conversations
Not allowing others to help
Emotional regulation
Social media as a primary outlet
This week, the school stopped the regular schedule to address some of these mental health challenges that are a part of our culture today. Students and faculty went through workshops to learn more about sexual boundaries, anxiety, depression, self-care, and listening to our bodies through yoga. The following were examples of the sessions:
Sam Saucier, Education Program Co-Coordinator of Sexual Assault Support Services of Midcoast Maine (SASSM)
Sam Saucier of SASSM came to campus to conduct two lessons for the students that included:
Foundational lessons on consent and sexual violence
Digital safety and sexting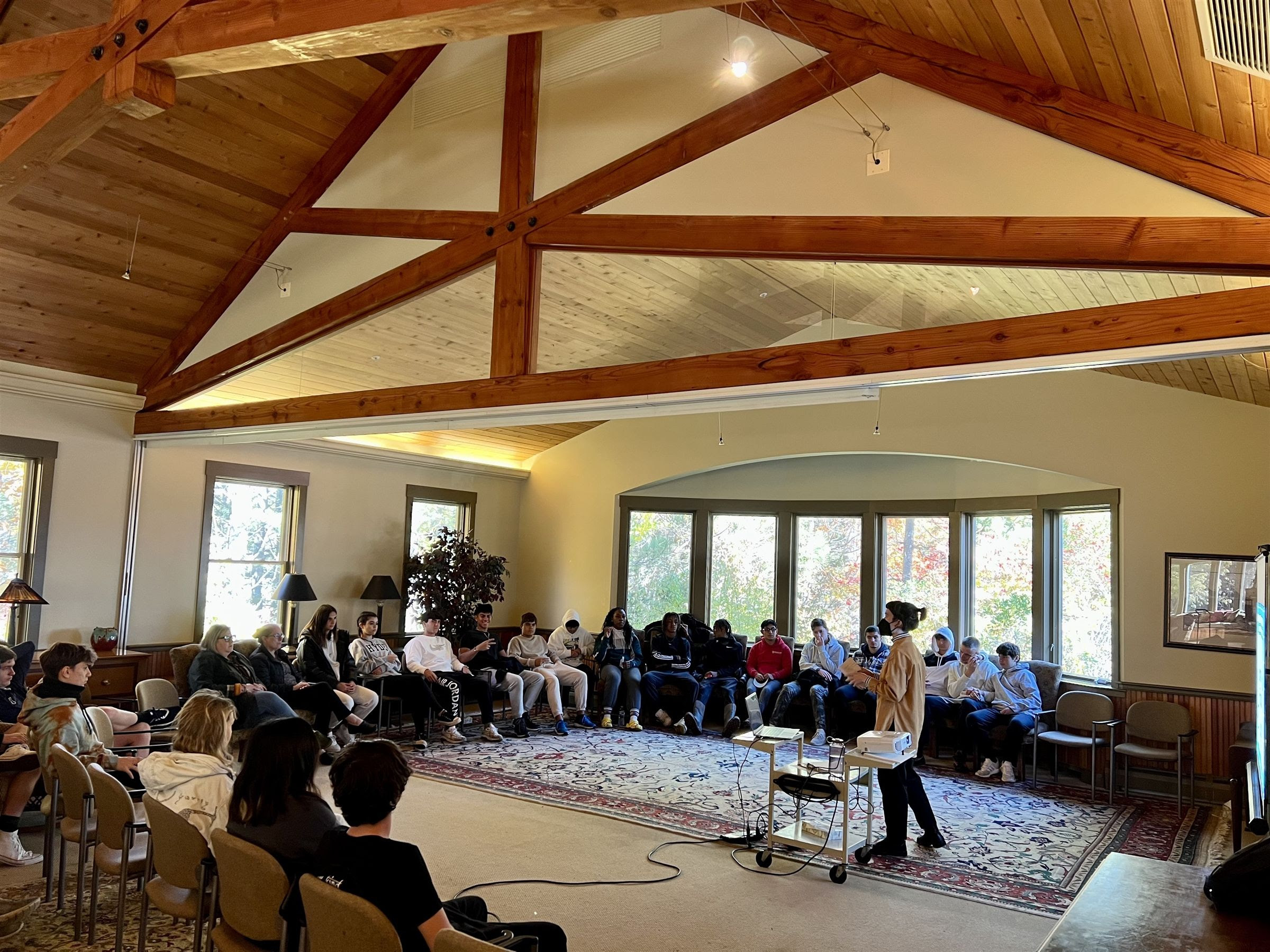 Guided Forest Therapy Walk- run by Megan-Mack Nicholson, Director of Outdoor Education
Students and faculty were guided to connect to the forest through noticing their senses and what was happening in their body. Forest Therapy focuses on the health benefits of being in nature such as activating the parasympathetic nervous, raising your NK cell count, and lowering blood pressure and stress. It was also a perfect opportunity to find peace and quiet on a beautiful fall day.
Guided Meditation - run by Jesse Higgins, Teaching Faculty
Students met in the Teak Room for guided meditation sessions. Students were introduced to the meditation and wellness app Headspace, which was founded Andy Puddicombe who is former Buddhist monk. Meditation and mindfulness is a useful tool for improving mental health and wellness.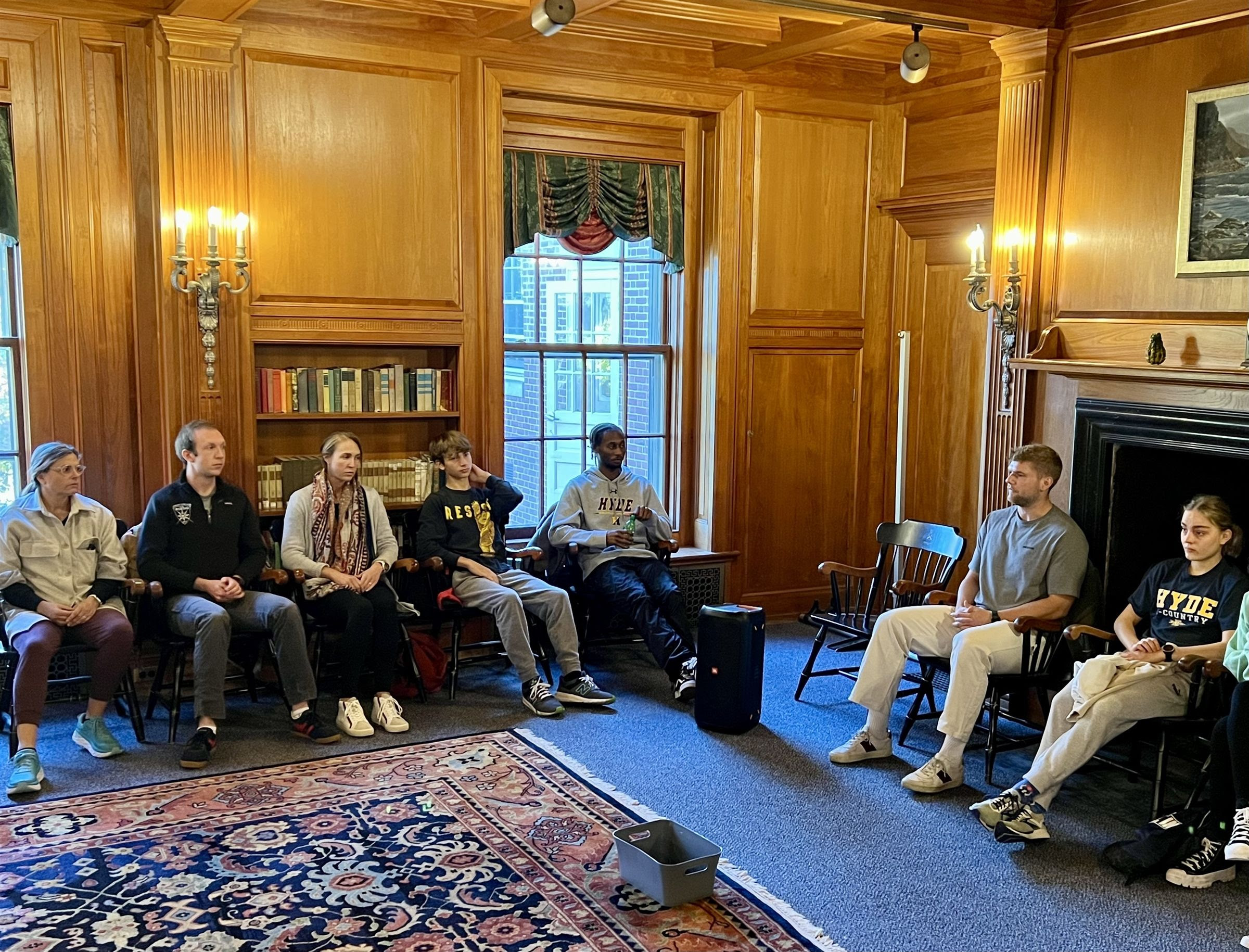 Guided Yoga - run by Ty Goodman, Outdoor Education Faculty
The yoga session focused on listening to our own bodies and knowing when to challenge ourselves physically and when to take a step back and try a different approach. Many students enjoyed the yoga flow and asked questions after about starting to learn yoga on their own.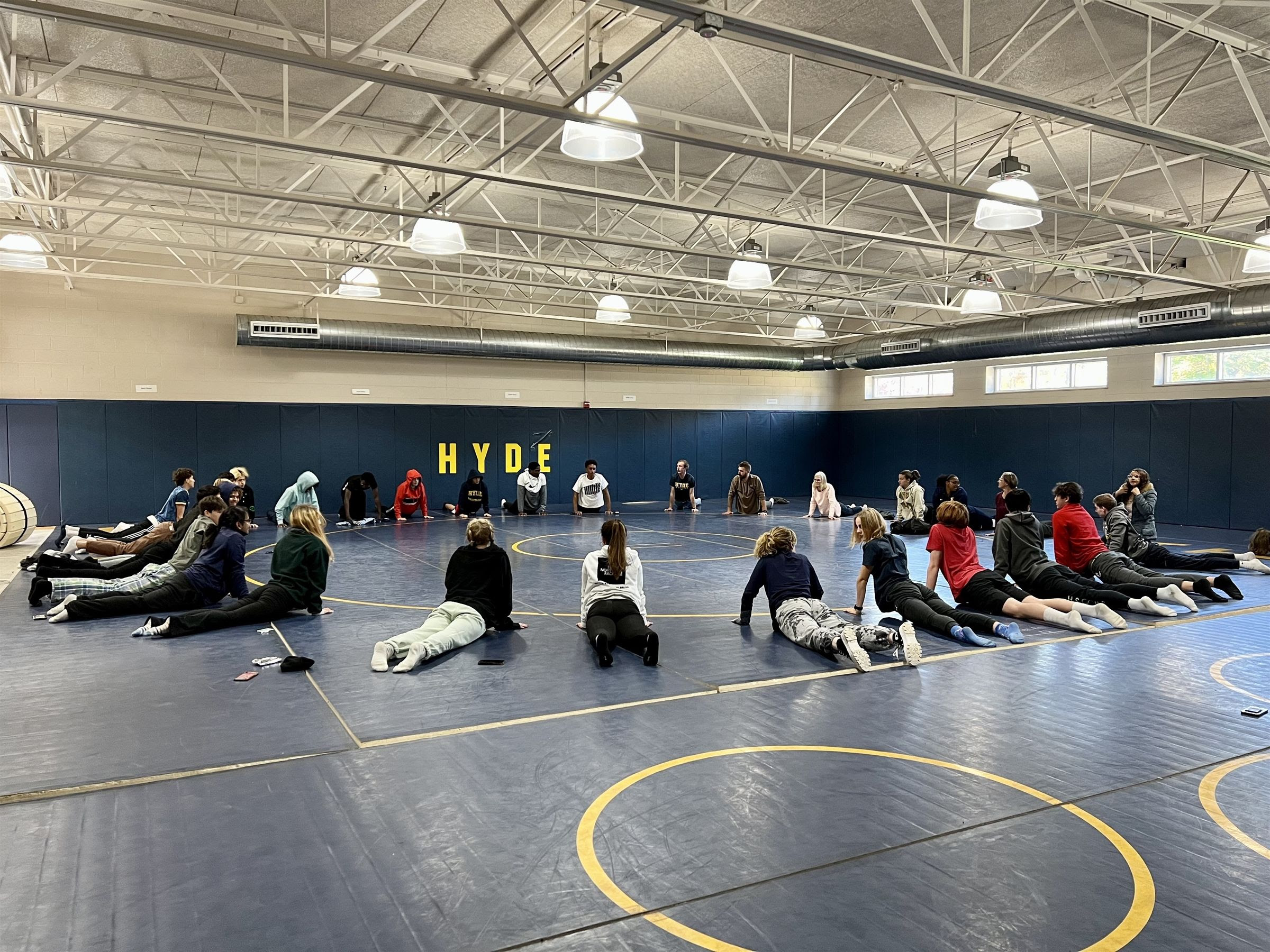 Thanksgiving Break
Thanksgiving Break November 18 - 28, 2022
Thanksgiving break is just around the corner. Trimester exams are November 15 – 17, and students are dismissed for Fall Break on Friday, November 18. Students are expected to return to campus Monday, November 28 by 7:30pm. Classes begin on Tuesday, November 29. Please check your email for additional information on transportation.
*Boys Varsity Soccer may have a later departure due to the New England Champion Tournament.
Maine Youth Leadership Day Returns
Written by Kyle Rougeau, Staff
Maine Youth Leadership Day Returns After Two-Year Hiatus
After the cancellation of public events due to Covid-19, Maine State Youth Leadership Day returns to in-person at the Hyde School.
On Thursday, November 3, 2022, the Hyde School will host the 7th Annual Maine Youth Leadership Day from 9:00 AM - 1:30 PM. The Hyde School is excited to announce this year's Keynote Speaker, Shawn Gorman, Executive Chairman of L.L. Bean, Inc. Schools throughout Maine are invited to this free event featuring 36 workshops focusing on leadership. Workshops are run by a diverse set of leaders within their own fields and hail from across the US.
Maine Youth Leadership Day began in 2014 with the goal to bring schools together to gain skills in leadership and teamwork. Past keynote speakers include Travis Mills of the Travis Mills Foundation, Senator Angus King, Senator Susan Collins, Cindy Williams of NEWS CENTER Maine and David A. Green President of Colby College. Check the event out on social media using the hashtag #leadersofthe207.
For more information visit Maine Youth Leadership Day
Wolfpack Recap
Friday, October 14
BVS vs Hebron 3 - 0
VFB Mt. Ararat/Hyde vs Waterville 36 - 8
Saturday, October 15 Fall Family Weekend
BJVS vs Hebron 0 - 4
GVS vs Hebron 1 - 7
XC vs Hebron - Recap by Dwyer Grimes, Faculty and XC Coach
Fall Family Weekend athletics never disappoints and in another home meet against Hebron Academy, the Hyde Wolfpack was unleashed again! Jayshawn Bruce '24 led the field with a winning time of 20:59. Next for Hyde in 3rd was Alyssa Sigfridson '23 and in 4th Paula Jakobi '24. The Hyde women kept a strong race. Nate Fever '23, Aidan Gahr '25, Steven Heil '23, Cameron Su '24, and Alex Wang '25 all ran their personal best shattering their previous times. Hyde Cross Country looks to keep getting better and better as we prepare for the upcoming meet at Kents Hill.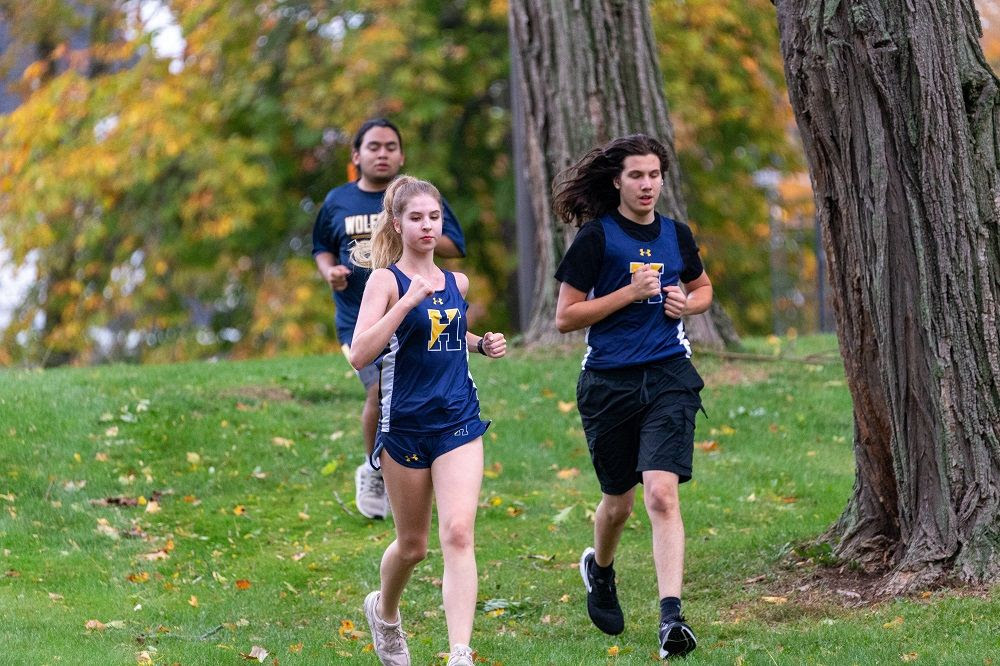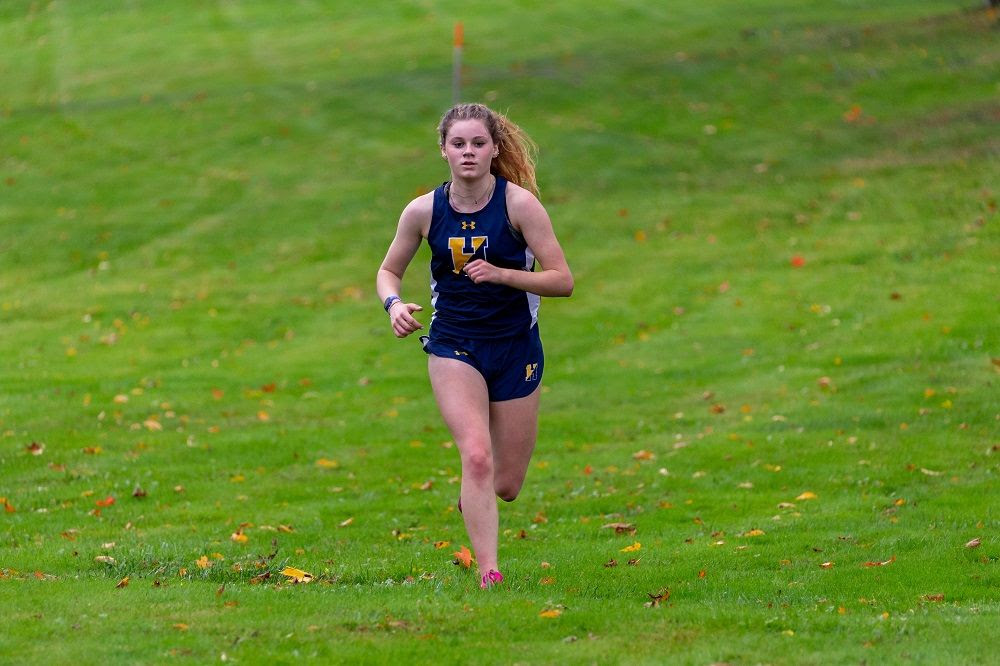 Wednesday, October 19
BVS vs Kents Hill 3:00pm 1 - 0
GVS vs Kents Hill 3:00pm 0 - 7
Upcoming Games and Meets:
Friday, October 21
VFB Mt. Ararat/Hyde vs Yarmouth/North Yarmouth 7:00pm (home)
Saturday, October 22
XC vs MAISAD Schools at Kents Hill 1:00pm (away)
Monday, October 24
BVS vs Austin Prep 4:00pm (home)
Wednesday, October 26
BJVS vs Kents Hill 3:00pm (home)
Saturday, October 29
BVS vs Gould Noon (away)
*Schedule subject to change, please check the Hyde Athletics Calendar and HydeSchool_Athletics handle for updates. For more sports recaps visit the Hyde Team page at Our Teams.
Hyde School | 616 High Street| Bath, Maine 04530 | 207-443-5584
Develop Character to Discover Unique Potential