Lessons From A Lecture
In a recent school meeting, we viewed video clips of Professor Randy Pausch's "Last Lecture," which was given to his students before dying from pancreatic cancer. At Carnegie Mellon, where he taught, there is a tradition of retiring professors giving a lecture on the last things they wanted their students to know. In his case, the talk took on more meaning as he knew that he had been given months to live and so wanted to be as intentional as he could be about his thoughts on life.
His key points included:
Experience is what you get when you didn't get what you wanted.
Be good at something; it makes you valuable.
Never lose your childlike wonder.
The brick walls are in our lives for a reason.
When people stop getting on you, it means that they have given up.
Tell the truth.
Learn how to apologize.
When we are connected to others, we become better people.
Pausch admitted that the concept of hanging onto your childhood vision might seem counter-intuitive: "Aren't we supposed to be growing up and moving away from those early days?" Yet, our childhood spirit is the core of our unique potential, and staying connected to our dreams opens up the possibilities for imagining our future.
Students and faculty gathered in small groups to discuss the following questions:
What was one of your childhood dreams and how did it influence you?
Who in your life has turned a "brick wall" into an opportunity to prove their commitment to you?
When have you given or received a sincere apology? Are there any apologies that you still need to make?
Some of the many comments that were shared included:
"My grandmother inspired me every day to be my best and modeled toughness in a world that was a struggle every day for her."
"My Mom was a single Mom of color and, in her day, it was tough, but she lived by her principles and challenged me to do the same."
"I need to apologize now to my team for my actions the other day."
"One of my childhood dreams was to be the president of the United States because I thought that was the top job. I became a lawyer instead, but I still think about that vision and it inspires me to be my best."
It was another powerful school meeting, and listening to Professor Pausch's words was a reminder that while we all know that our lives will come to an end end, we can take advantage of each day we have to define who we are and commit to helping the person next to us. In Professor Pausch's words, "Karma is real. If you live your life properly, the dreams will come to you."
Laura D. Gauld '76
President & Head of School
Fall Family Weekend
Thursday, October 13 – Sunday, October 16, 2022
Schedule and homework attached below.
Dear Parents,
As fall arrives, we are well on our way toward building a dynamic school culture focused on character and excellence. It is exciting to see the returning students with more confidence in themselves and their leadership, and to meet the new students who are full of energy and ready for a challenge.
In just a couple of weeks, you will be joining us for Fall Family Weekend.
Thursday, October 13 – Sunday, October 16
Our theme for the weekend is Biggest Job priority #4 – Set High Expectations and Let Go of Outcomes. When we aim higher than we think we can reach, and if we give our best, we will ultimately feel good about the outcome whether or not we actually accomplish our intended goals.
If you are at Hyde, you are a high-expectation family. While this can inspire the best effort and lead to achievements, it can also challenge our attitudes. We may want to win at all costs or give up when something gets difficult. We may try to control and manipulate. We may compare ourselves to others and feel inadequate, or lower the bar because we are afraid. As parents, it is important that we believe in our child's best and set the character bar high, while also stepping back so they can wrestle with issues and learn life lessons.
The Family Weekend activities will include academic class rotations, family seminars (Please answer the attached homework questions, and bring them to the Friday seminar), athletic events, a workshop on the college process, and regional activities. Siblings older than twelve, who are ready and willing to complete the homework, are encouraged to participate in the seminars. We ask parents to bring jeans and a white t-shirt for our Saturday night "mandatory fun."
We look forward to your arrival on Thursday – registration begins at 3 pm, and students will be available around 5 pm to go out to dinner with their families. The packet you receive at registration will have all the details for the weekend. We ask that all parents return to campus by 7:45 pm that evening.
If you have any questions regarding the weekend, please do not hesitate to contact me.
When entering the Family Weekends, I have found that having an attitude of, "What can I learn about myself and my family?" has helped me tremendously. Strive to demonstrate the same attitude and level of effort you expect of your child. Have a safe trip, and we look forward to seeing you soon.
For Parents of International Students:
Please complete the attached homework. Your student will call you at 9:30 am EDT on Saturday, October 15th to discuss this homework with you.
Sincerely,
Katherine Mondanaro
Director of Family Education
Traditional student council government often focuses on top students being put into leadership positions to preside over the student body. Since Hyde's focus is on unique potential, all students are expected to develop their inner leadership style. Students experience being a part of the council throughout the year and create a genuine partnership where they are working to address strengths and challenges in the student culture.
The mission of the Wolf P.A.C. (Peer Action Council) is to provide all students the opportunity to give and receive feedback, to understand more fully the strengths and challenges of their peers, and to ensure Each Other's Keeper is an actionable and positive force in the school.
While participating on either side of the council table, students develop public speaking confidence, deepen their own self-awareness, and form important relationships with their peers. They learn how to have difficult conversations and important life skills while stepping outside of their comfort zone.
Themes that are dealt with in the Wolfpack Council include:
School-wide issues that need to be addressed and supported
individual student ethical infractions
A student who may need to leave the school to receive help in an area
A student who needs a leadership challenge
Being a change agent in the school
Supporting the integrity of the student culture
The following students are currently in leadership positions within the council:
Annie Villa '23
Bailey Burke '23
Aree King '23
Spencer LeClair '23
Santiago Nieto Bautista '23
Dean of Students Thomas Bragg said, "Hyde always runs better when we have a strong student culture and the council has been a place where both students who are recognized leaders in the school can work with students who are learning to become their best selves."
Disco Basketball Shooting Contest
Friday, September 30, each Discovery Group nominated their best shooter to compete in the contest. Remaining Disco members assisted in rebounds and cheers. Contestants had one minute to make as many shots as possible from designated spots worth different points. The competition was bracket style with each Disco with the highest score advancing to the next round. Runner-up was Steven Jean-Louis '23 of the Condon Rhaney Disco, and for the win was Michael Oosterhaven '24 of the Peltzer Reid Disco.
Winner Michael Oosterhaven '24
Pinelands Farm
Sunday, October 2, students took a trip to Pinelands Farm in New Gloucester, ME, where they got to explore a five-acre corn maze.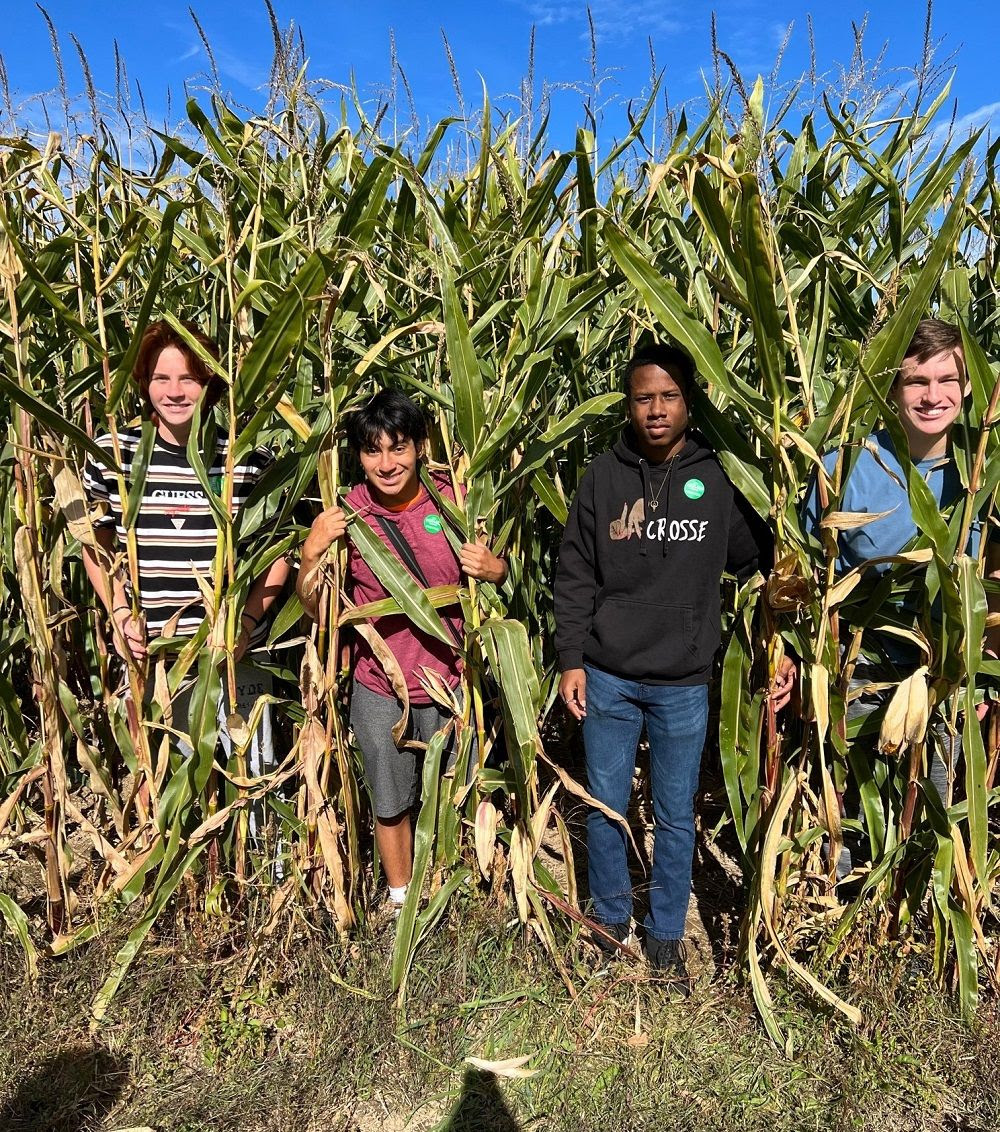 Wolfpack Recap
Friday, September 30, GVSOC played against Wiscasset to gain their first win of the season scoring 4 – 0. Amelia Hanlon '25 had a hat-trick scoring three goals, and Annie Villa '23 scored one goal.

Mt. Ararat/Hyde Varsity Football defeated Greely 38 – 22.

Saturday, October 1
CC vs Hebron - Win
Wednesday, October 5, BJVS took home their first win of the season against Gould 5 – 3. Leo Broccoli '23 scored two goals, Ivan Molnar '24 scored three, and a great performance in goal by Jasper Herzog '26! Pedro Lopez '25 assisted most of the goals. BVS remain undefeated taking home another win against Gould 6 – 0. GVS lost to Gould but played with a lot of grit. Strong showings by everyone on the team and looking forward to this weekend games!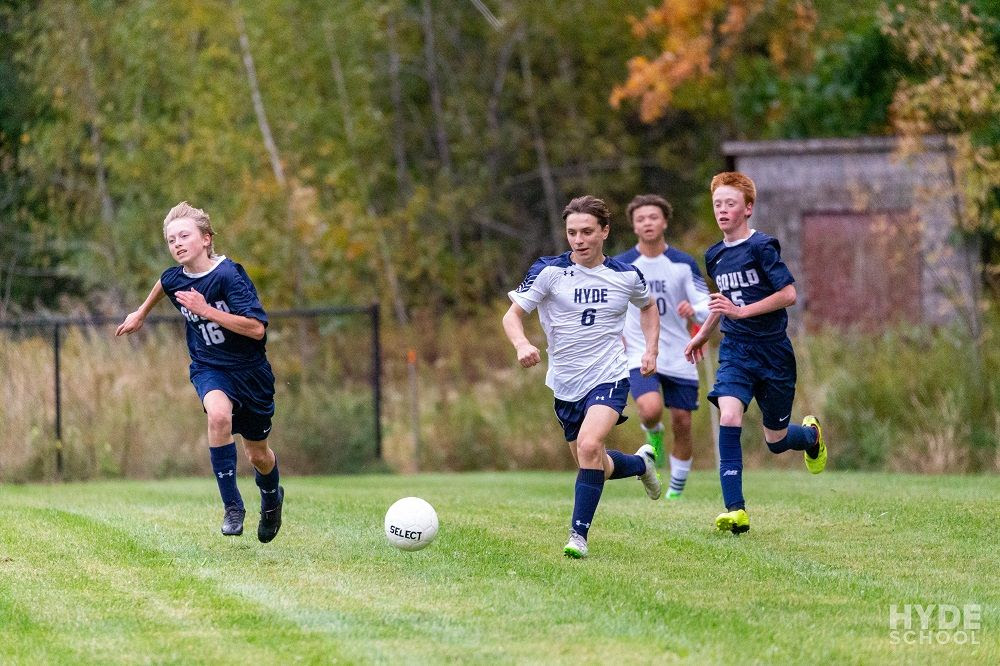 Upcoming Games and Meets:
Friday, October 7
VFB Mt. Ararat/Hyde vs Spruce Mountain Phoenix (away Livermore Falls)
Saturday, October 8
CC at Hebron 11:30am (away)
BVS at Hebron Noon (away)
BJVS at Hebron Noon (away)
GVS at Hebron 2:00pm (away)
Saturday, October 15 Fall Family Weekend
CC vs Hebron 1:30pm (home)
BJVS vs Hebron 2:00pm (home)
BVS vs Hebron 2:00pm (home)


*Schedule subject to change, please check the Hyde Athletics Calendar website and Hyde_Athletics Instagram for updates.