Harrison Westhaver Gauld
Celebration of Life
September 21, 2022
"Your children are not your children.
They are the sons and daughters of life's longing for itself.
They come through you but not from you,
And though they are with you, they belong not to you.
You may give them your love but not your thoughts,
For they have their own thoughts.
You may house their bodies but not their souls,
For their souls dwell in the house of tomorrow which you cannot visit not even in your dreams.
You may strive to be like them but seek not to make them like you,
For life goes not backward or tarries with yesterday."

When Harrison was young, and we knew he was facing the challenge of autism, we set the bar high and expected everything the experts told us he would probably never be able to do. In my fiercer moments, I defined the idea of recovery as setting a high vision and truly letting go of the outcome. Yet, there were also many moments where I really wanted him to be like everyone else - hoping that all our work would allow him to meld back into the "normal," and we would all proudly proclaim victory. Fortunately, Harrison had his own path.

As we say here at the Hyde School - "Every individual is gifted with a unique potential that defines a destiny." While he certainly had his challenges, Harrison was blessed with some gifts that were unique - his spirit, his joy, his smile, his soulful eyes, his inquisitive and mischievous nature, his humor, and his love of people.

There was a time when I had thought one of the biggest challenges of our life was to raise a son with autism with high expectations. Then that challenge was eclipsed by the challenge of letting him go to become a man. We all have Mohamed and his team to thank for that. Now we have to let go of his physical time on this earth, and that process will take time. We all have a finite amount of time on this earth. His eternal life and our spiritual relationship with him will continue and flourish.

Harry always remembered. If you sat with him in grade school, he remembered you. If you were a counselor at camp, he remembered. If you gave him a check-up or cleaned his teeth, he remembered. He remembered if you tutored him, tried to teach him football or soccer, were a swim coach, babysat, or bowled with him. If you went on airplanes with him, saw Broadway plays with him, sang with him, swam in hotel pools with him, and even if you came to the epic birthday parties where he stayed in the other room to eat his cake, he remembered you.

I will also always remember too. All of you that came here today, wrote cards, shared stories and memories, helped build his character through the years, contributed to the scholarship fund, and enhanced his amazing life. You all were the village that gave him so much in his time here. Know that our family will never be able to express our gratitude for what you have given to us.

One of Harrison's favorite songs was Phil Collins' "You'll Be in My Heart." Really, it was his signature song, and it never failed to rally the crowd. The lyrics told Harrison's story in so many ways:
Come stop your crying it will be alright.
Just take my hand and hold it tight.
Why can't they understand the way we feel.
They just don't trust what they can't explain.
I know we are different, but deep inside us, we're not that different at all.
As I walked out of the celebration of his life, I saw so many of our Hyde students dressed up and showing their support for our family. I will always remember that too.

Laura D. Gauld '76
President & Head of School
Community Meetings
Written by Camryn Lewis '23
Monday meetings are the best way to kick-off our week here at Hyde School. Students, faculty and staff all gather in the theater to discuss the happenings on campus including sports, activities, how the community is running, and have some fun in the mean time! Students from other parts of the world have an opportunity to give a "teaching moment" presentation about their culture. This is also a time for students and faculty to shoutout anyone from the community that has displayed exceptional effort in leadership, integrity, curiosity, concern and/or courage.
Chinese Mid-Autumn Festival
Written by Paolo Iacobello '23 and Fang Jiang, Faculty
Saturday, September 10, the Hyde Chinese International students and Mandarin class students had an absolutely great time gathering together to celebrate the Mid-Autumn Festival, which is the most important festival in China after the Chinese New Year. People in China have a three-day holiday to travel and be with their loved ones. It is a time for families to reunite. All family members appreciate the moon and eat mooncakes together. There are lantern shows and other celebrations as well.

All of the students participated as a team to put on a wonderful Hot Pot dinner party. Hot Pot is known as Chinese fondue and is one of the most popular meals in China. It consists of a simmering metal pot with broth at the center of the table. All raw ingredients are placed beside the metal pot for people to cook whatever they like in the broth. Spicy or non-spicy? Your choice!

Students prepared the food, set the table, decorated, made dumplings, and all helped with the clean up.

The students had fun learning about the different foods as part of the celebration, and enjoyed the experience of getting to cook and eat together like a family.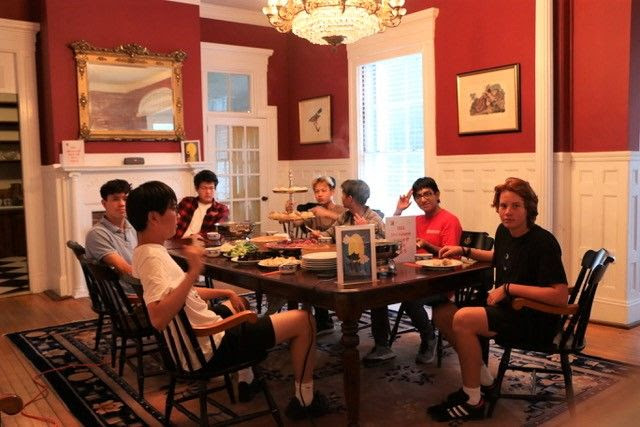 No obstacle too great for the Wolfpack
Written by Justin Siekierski, Faculty
Last Saturday, on a beautiful brisk Fall morning, a handful of students and faculty ventured north to Camden, ME to participate in the "Ragged Mountain Scuttle Run," an event organized to help provide services to those in need. The energy was high as the Pack ventured through the course climbing over obstacles, running through tires, carrying 40 pound sacks, throwing spears, amongst other fun activities. In true Hyde fashion, the Pack "showed up and showed out," as many volunteers commended the group for their excitement and positive energy.
Wolfpack Recap
Cross Country competed in their first meet of the year last Saturday at Hebron. Paula Jakobi '24 and Alyssa Sigfridson '23 finished first and second in the girls' division. Congratulations ladies on starting the season off strong!
Max Spring '24 currently plays varsity football for local high school Mt. Ararat in Topsham, ME. This past weekend Mt. Ararat/Hyde defeated Camden Hills Regional 48-15.
Faculty vs Students football game took place Thursday at the turf. Students took home the win 36-18.
Upcoming Games and Meets:
Saturday, September 24
BVSOC vs Winchendon School 2:00PM (home)
BJVSOC at Gould Academy 2:30pm (away)
CC vs MAISAD Schools at Manchester 11:00AM (away)
Wednesday, September 28
BVSOC vs Kents Hill 3:00pm (home)
BJVSOC at Kents Hill 3:30pm (away)
GVSOC at Kents Hill 3:30pm (away)
Friday, September 30
GVSOC vs Wiscasset 3:30pm (home)
VFB vs Greely 7:30pm (home Mt. Ararat HS)
Saturday, October 1
CC vs MAISAD/Hebron 1:00pm (home)
*Schedule subject to change, please check the Hyde School website and Hydeschool_Athletics Instagram for updates.