Courage to be a Community
Recently, I was cleaning out a storage area at school and came upon one of the original brochures for the school. On the front page, Hyde School talked about a college preparatory school that was going to be built around five words:
The Courage to meet challenge
An Integrity of spirit
An active Concern for others
A Curiosity for life and learning
The capacity for responsible Leadership
While the program descriptions were written over 50 years ago, the essence of the early vision still permeates much of daily learning. This past week, as students were working hard to wrap up term academics and prepare for post-season athletic tournaments the school gathered for our last school of the fall term. We set up an open podium where anyone could come up and share something about themselves with the community. The following were guide questions:
Something that I am struggling with
Something that I am going through and need help with?
A goal that I have and want others to know
An apology or amends that I need to make and it would be important to say in front of our Hyde family
A vision that I have for my life
Something I am working on within my family
Something that I am proud of and working towards
For over one hour, students and faculty got up and shared a range of thoughts and feelings. The statements covered a range of themes which included:
"I came here to better myself and I didn't handle a mistake I made this fall and want to apologize to those who I affected. I plan to take advantage of the next two terms."
"I am working on my health and while I want to quit when it gets hard, I am not going to do that."
"One of my coaching mentors from childhood recently passed away and I want people to know that I need help as I work through this."
"Now that I am a young faculty member, life has more ambiguity and it becomes more of a challenge to hold myself to my vision."
"I was not a role model to the new students and apologize for setting the wrong example."
"I really care about this school and want our teams to express our highest standards."
"I am struggling and don't always show that to others so wanted to say that."
"I am proud of the last six months and what I have accomplished."
At the end of the meeting, we shared words that summed up the meeting for our community - strength, vulnerability, bravery, family, connections, honesty, and community. It was a powerful reflection of the depth of our students and faculty.

Laura D. Gauld '76
President & Head of School
Hyde Strong Parents Fund
Message from Co-chairs Doug and Sharon Goldhirsch
Parents of Rafael Goldhirsch '23
Like us, we hope you are holding onto the positive energy felt throughout Fall Family Weekend on campus, or if you connected with your child remotely. We enjoyed seeing many of you again, and meeting many new families. A warm hello if our paths didn't cross!
It's a pleasure to co-chair the Hyde Strong Parents' Fund, and we wish to express our deep appreciation to those of you who have made your gift and pledged to our callers. Our Annual Fund Parent Team is continuing its outreach, and we look forward to hearing from all of you about how you can support Hyde this year. Again, pledge amounts are needed by 12/31 and gifts are welcome through the end of June.
As we shared on Family Weekend, our goal is 100% family participation and every gift matters! If you are in a position to give at a significant level, this will help ensure our success.
Please reach out at any time with questions. Thanks for doing your part in keeping Hyde Strong!
With gratitude,
Doug and Sharon Goldhirsch
Fall Exams
Written by Crystal Peltzer, Director of Academic Studies
As we close out the week, students and faculty alike also look forward to closing out the Fall term. To do so, Hyde takes part in a time-honored tradition with end-of-term exams. Exams can often be a source of anxiety for even the strongest of students, but if you have learned anything about Hyde so far, you know we value attitude and effort over aptitude, and that is where the focus is next week. Our students enter each class with an opportunity to show their teachers what they have learned so far this year and we want to help students focus on perseverance and not to give up or quit if things are difficult. To have faith in their abilities, and put their best efforts forward. Hyde's academic model, The Learning Triangle, celebrates the partnership between teachers and students while exploring subjects together. There is no hierarchy with a teacher at the top, and this is a time for students to show off their efforts throughout the past few months.
Despite our focus on things students can control over things they can not, exams do hold value in providing the opportunity for students to practice studying behavior, demonstrating long-term learning over the course of a trimester, and in experiencing an exam structure they may encounter in college.
To combat some of the potential apprehensions entering the week, we have put supports in place to help students focus on wrapping up the term strong. Faculty will be taking over dining hall jobs for the week. Many teachers hold evening or afternoon tutoring sessions throughout the week, and the schedule is generally more relaxed. Students start the day with a later wake-up and breakfast, a maximum of two exam blocks per day, and ample time between them for taking a mental break or prepping for the next exam.
I know most of you are looking forward to welcoming your student home in just a few days, and if you reach out to show your support as they enter a week they may be nervous about, remind them to:
Pause.
Breathe.
It is never too late to give it your all.
And they have the support of a strong community backing their efforts.
Wolfpack Recap
Friday, November 4
GVS vs Gould 0 - 10
BVS vs Bridgton 0 - 3
XC MAISAD Championships at UMA
On Friday, November 4, the MAISAD Championships were held at UMaine Augusta on a beautiful November day, almost hitting 70 degrees. Congratulations to Paula Jakobi '24 for being the XC Girls Varsity MAISAD Champion, running a personal record 5k time of 22:19. No full girls team competed that day. The Boys Varsity XC team finished in third against Kents Hill and Gould. Nate Philips '23 finished 10th in the Boys Varsity division. Overall, a great end to MAISADs, and gives Hyde momentum going into the New England XC Championship this Saturday at Marvelwood School in Kent, CT!
- Coach Grimes
BJVS MAISAD Semifinals vs Kents Hills 0 - 6
The Boys Junior Varsity Soccer team season ended in the MAISAD Semifinals on Friday, November 4, against Kents Hill 0 - 6. The Wolfpack played a hard-fought season ending 1 – 5. Highlights include our win over Gould 5 – 3, and the teams continued drive to improve each game. We'd like to give shout outs to Ben Halaby '23 and Elias Remekie '26 on offense, Jasper Herzog '26 and Rafi Goldhirsh '23 on defense, Ivan Molnar '24 for being the top season scorer, and Leonardo Broccoli '23 who played striker but was up to the challenge to switch to any position on the field needed to help the team.
– Coach Jensen
VFB Mt. Ararat/Hyde vs Yarmouth Regional Finals 18 - 20
Friday, November 4, the Mt. Ararat/Hyde Varsity Football team played Yarmouth in the regional finals. Mt.Ararat/Hyde's winning streak came to an end in a tight game against Yarmouth 18-20. The varsity football team had one of its better seasons 8 – 2. Max Spring '24 has been playing for Mt. Ararat varsity football team for the last two years and is a two-way starter playing offensive and defensive tackle. Congratulations Max on a great season.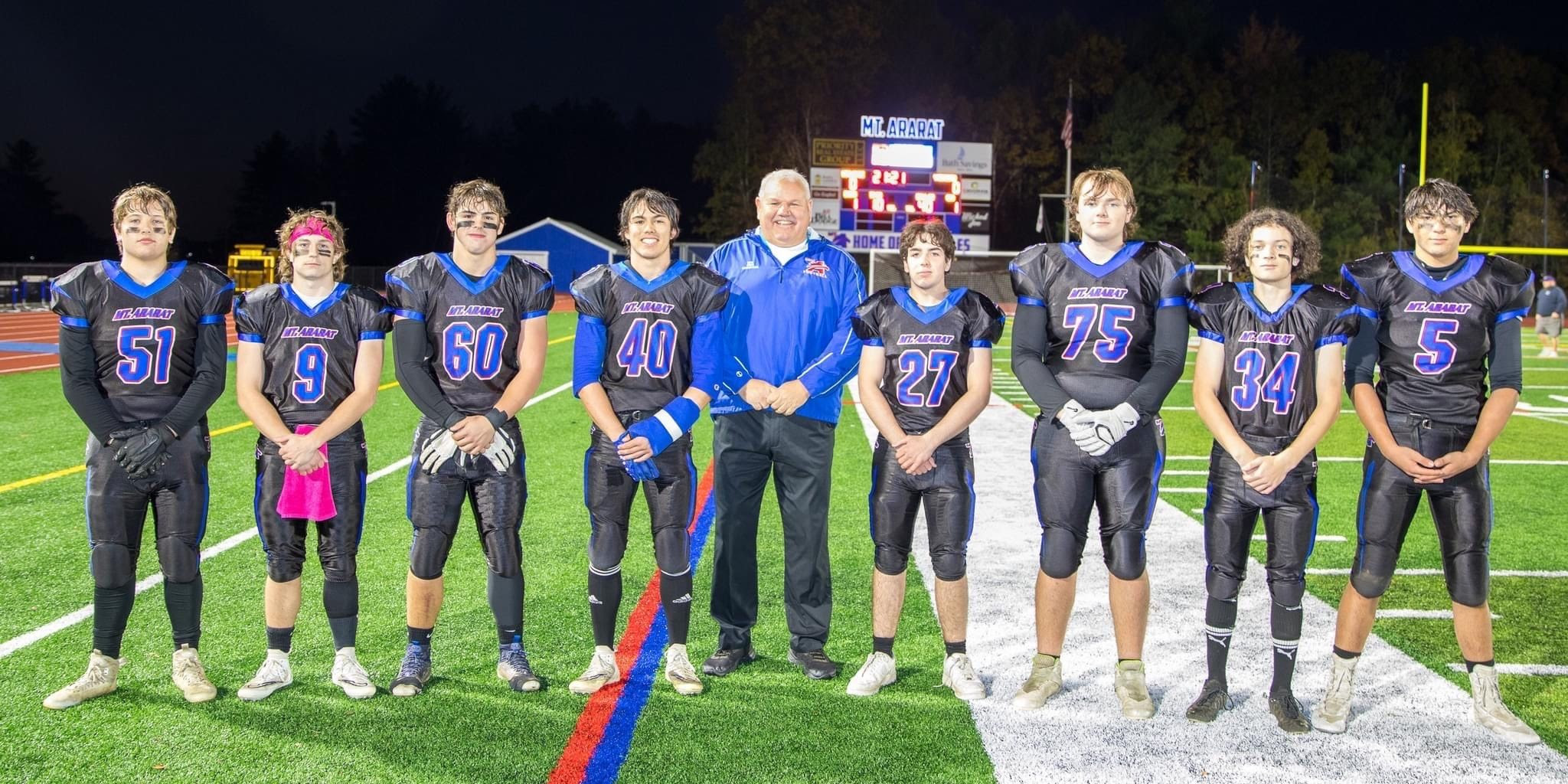 Wednesday, November 9
GVS MAISAD Semifinals vs Gould
This fall the Hyde's Girls Varsity Soccer team learned a lot about the sport and each other. While at times we struggled, our last game against Gould Academy was a testament to the techniques we have developed and our support for one another. Maria was a star in goal for the first time ever and garnered cheers from not only our players, but the opposing team. While we only had one win this season, I would say our season was a success, as we learned a lot more about the sport of soccer, as well as how to be good teammates. Highlights included our 4-0 Win against Wiscasset and the leadership of our Seniors. In particular this year, we could always count on Cam Lewis '23 and Julia Galan da Silva '24 on defense, Bella Valerio '23 and Georgina Domingo Fernandez '24 in Midfield, and Aree King '23 and Amelia Hanlon '25 as Forwards. Lexa Lilly' 23 and Biset Zellinger '23 were our amazing goalies, and Amelia was our top scorer of the season! - Coach Hanley
BVS MAISAD Semifinals vs Hebron 4 - 1
Boys Varsity Soccer team defeated Hebron in the semifinals 4 - 1. The team moves onto the championship game set for this Saturday, November 12, against Kents Hill at 1:00pm at home on the turf. Good luck Wolfpack!
Upcoming Games and Meets:
Saturday, November 12
XC New England Championships at Marvelwood School in Kent, CT 11:00am (away)
BVS MAISAD Championship vs Kents Hill 1:00pm (Home)
*Schedule subject to change, please check out Hyde Athletics and Hydeschool_Athletics Instagram handle for updates. For more sports recaps visit the Hyde Team page at Our Teams.